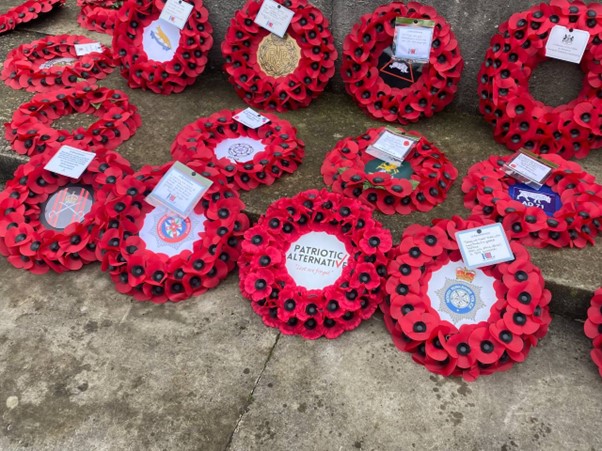 Railing against Tommy Robinson's call out to the football firm troops at the weekend as a 'Zionist trap', Patriotic Alternative, the neo fascist group run by Mark Collett, Sam Melia and Laura Towler, gleefully posted pictures of their activists besmirching the memories of the millions who died fighting fascism.
PA is claiming 20 activities nationally, but online reports of their events show no more than a handful of supporters at most at any gathering, gutlessly attempting to blend in with armed forces veterans, and local dignitaries, in some cases wearing old, ill-fitting suits as camouflage.
Standing at war memorials dedicated to those who gave their lives defeating fascism, whilst espousing a violent, super extreme form of modern-day ethno-hatred, is the lowest form of hypocrisy. It is also a deliberate provocation.
PA activists know that soldiers from the Empire, Indians, Africans, Asians, Chinese, and Jews, fought for Britain against Hitler, Mussolini and Japanese fascism. Not even racists can whitewash and falsify our collective histories. With PA split right down the middle, and UK fascists desperately trying to organise, there is a serious, yet unsuccessful, effort to make PA seem relevant and active. In reality, its hardcore is under 200 in number, its ideology universally reviled, and it is reduced to tagging on to Remembrance Day events organised by people it holds in contempt.
Nevertheless, anti-fascists must always be on the lookout, ready for action. With leading politicians whipping up anti-migrant hatred, ably supported by sections of the gutter press, the likes of PA will always attempt to capitalise on division and hatred in the public sphere.