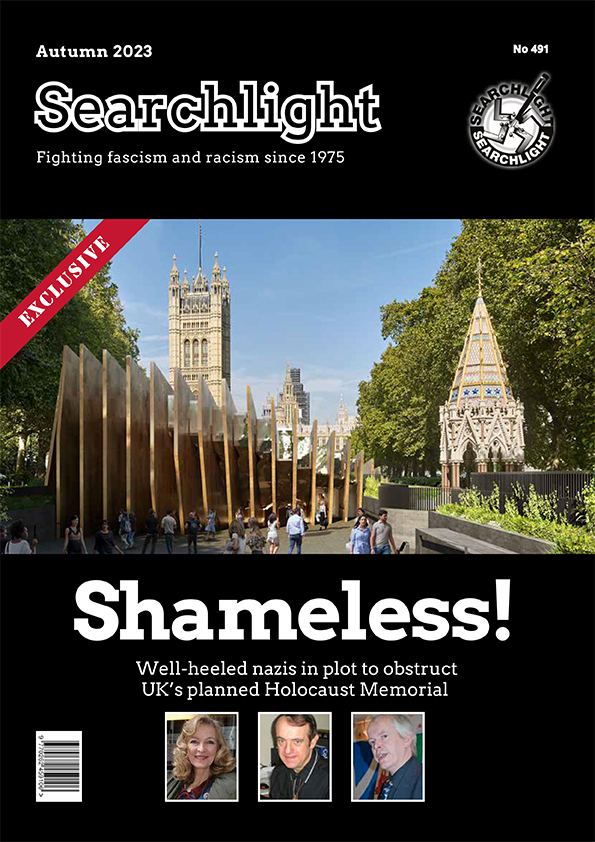 EXCLUSIVE
By Tony Peters
Wealthy Holocaust revisionists across the world are planning a campaign against the establishment of a Holocaust Memorial in London. Plans for the memorial, intended both as a monument to all victims of the Holocaust and as a learning centre, have been advancing since 2015, but are now attracting the hostility of a range of far-right Holocaust deniers.
The prime movers are close associates of the convicted Holocaust denier Vincent Reynouard, including Reynouard's fellow neo-nazi Boris Le Lay, who has spent several years in Japan on the run from criminal charges in France. Le Lay is a prolific online activist.
Older nazi apologists intend to use London again as a base for their denial campaigns. These include Yvonne Schleiter, sister of the notorious French revisionist Robert Faurisson, and Faurisson's former translator, William Nichols, an American who now lives in Europe. Also involved are Germar Rudolf, a convicted German Holocaust denier and a far-right Spanish lawyer, Armando Rodriguez Perez.
Perez is suspected by some on the right of having other loyalties: he moved rapidly from a left-wing, human rights background to an extreme right-wing position. Their suspicions are compounded by the fact that he has spent time in Israel.
Support for the campaign will also come from Canadians, including the militant anti-Semite Paul Fromm and a much-travelled couple, John and Linda Mortl, who have in the past provided funding for Faurisson and for Ernst Zundel, the German neo-nazi and publisher of revisionist literature. In 2009, The Guardian had to apologise for publishing a letter from John Mortl in defence of John Demjanjuk, the former Nazi concentration camp guard convicted of war crimes in 1988. Mortl denied that the wartime murder of Jews had happened. Linda Mortl was reported to have been in contact with discredited author and Holocaust denier David Irving.
Also in 2009, the Mortls, then resident in London, attended the court hearings of Holocaust denier Fredrick Toben, who had been detained at Heathrow on a European Arrest Warrant.
Delay or prevent
The individuals likely to be organising on the ground in the UK are Peter Rushton, the deputy editor of Heritage and Destiny, and Michèle Renouf, both currently cosying up to Patriotic Alternative.
Tactics for the campaign that are being discussed include encouraging and providing financial support for any planning consent disputes or judicial reviews that might delay or prevent the memorial going ahead. It would also involve a political campaign involving ostensibly respectable activities such as letters to upmarket newspapers and organising conferences.
Politically, the revisionists think that this is an opportunity to raise the argument publicly that the Holocaust did not happen and that the memorial is being foisted upon the people and the UK Parliament by 'the usual suspects'. They will also claim that this is a slippery slope: until now the UK has been one of the few places where you could argue that the Holocaust did not happen without fear of legal consequences, but that this freedom will be targeted next.
A 'Robert Faurisson International Prize' is also being used to promote the late French academic's Holocaust denial agenda, in association with anti-Semites in the Arab world. Iranian and Lebanese journalists attended Faurisson's final public appearance in London, the day before his death in 2018.
The Prize Committee is chaired by Giuseppe Fallisi, an Italian tenor with close ties to the anti-Semitic fringe of Palestinian activism. Fallisi travelled to Gaza with an aid flotilla and has sought to infiltrate extremist ideas into pro Palestinian campaigns.