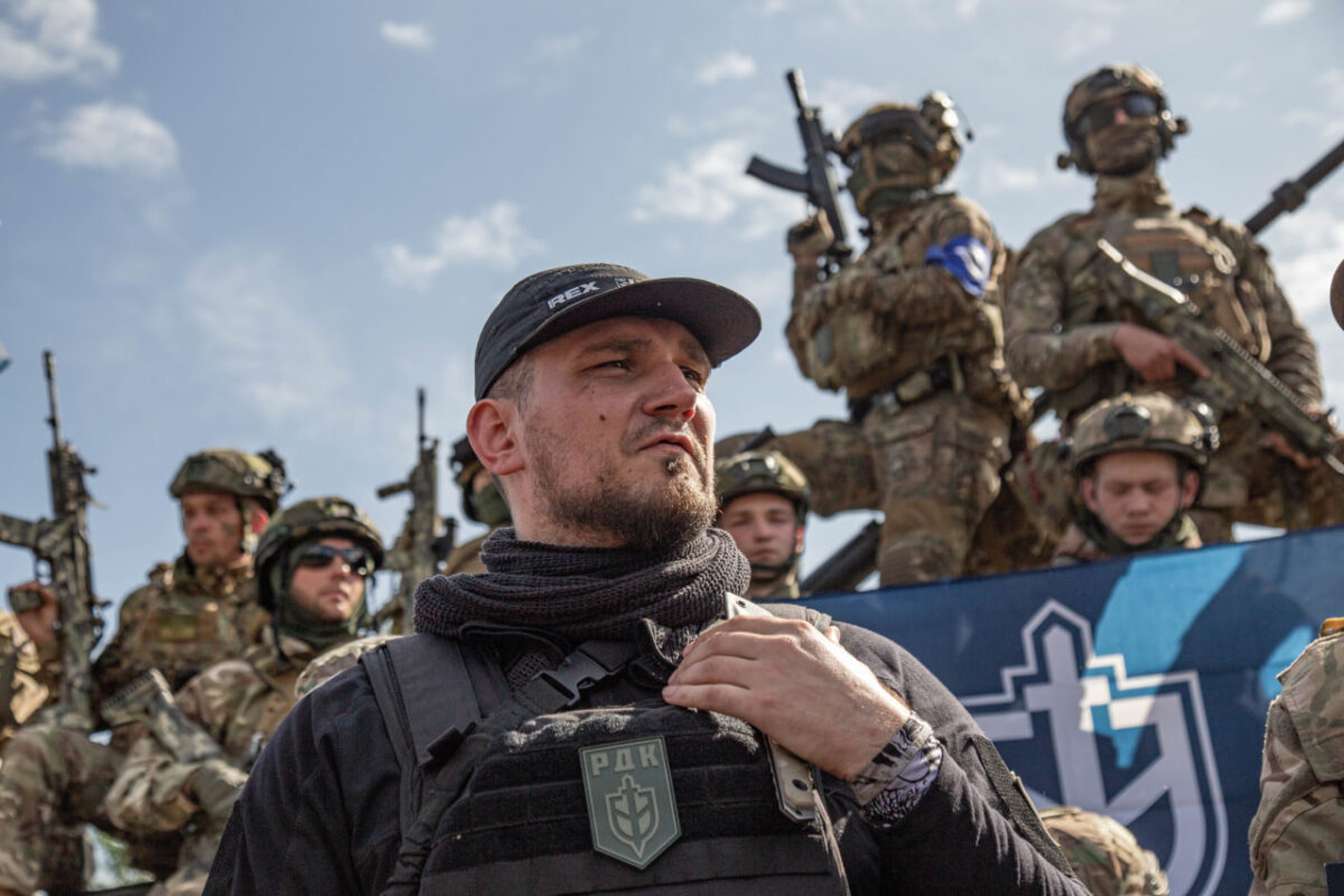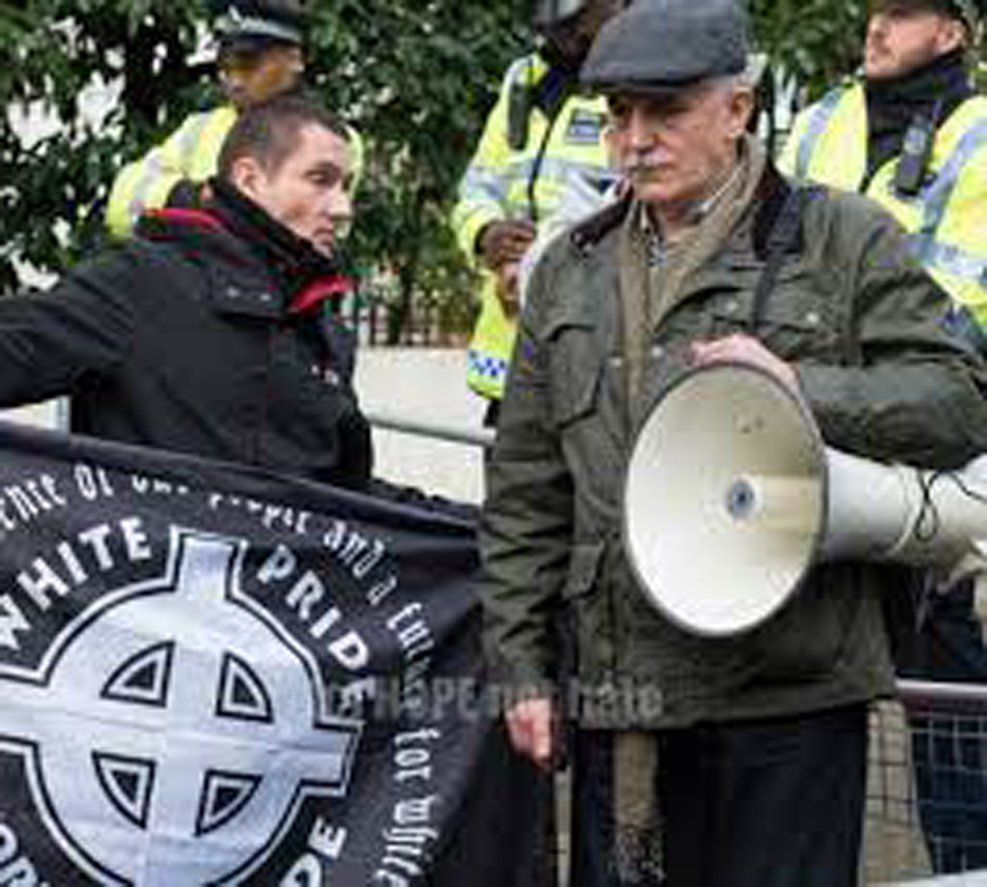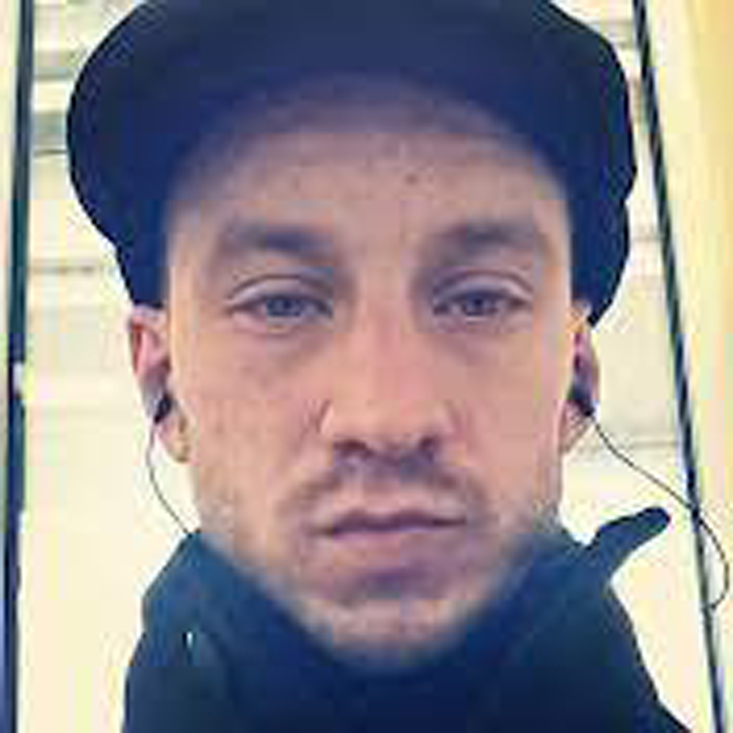 Images: top, Denis Nikitin, aka Kapustin, with his Russian Volunteer Corps in May this year; bottom left, camps organiser Larry Nunn (with loud hailer); bottom right, Arkadiusz Rzepinski, leader of the UK section of far right Polish group NOP [National Rebirth of Poland]
This article first appeared in Searchlight Summer 2023 issue.
THE LEADER OF a fascist pro-Ukraine militia that invaded part of southern Russia in May was exposed by Searchlight in 2014 for providing military training to fascists in Britain.
Denis Nikitin, also known as Denis Kapustin and 'White Rex', is the leader of an armed Ukraine-based anti-Putin formation called the Russian Volunteer Corps. In April, the unit crossed the border from Ukraine into the Bryansk region of southern Russia, occupied a couple of villages for a few hours, took photographs of themselves, then withdrew.
The incursion, which led to Putin cancelling a planned trip and convening an emergency meeting of his security council, attracted worldwide publicity, despite being little more than a stunt. The Ukraine government denied any part in the action, but some observers think it could not have gone ahead without its knowledge.
Russia claimed that two civilians had been killed and a child wounded in the operation.
Nikitin, who is 38 years old, is a veteran neo nazi, who has long been involved in martial arts and paramilitary training. In August 2014, he was in the UK offering training at secret camps in remote country locations.
Two of the camps he attended were in Wales and the West Country. Searchlight reported at the time that guns were present and on show. There was training in knife fighting, how to take out sentries and how to provoke riots.
Organising the camps was a former National Front and British National Party activist Larry Nunn. Among those present were also members of the right-wing Iona London Forum and the Traditional Britain Group.
Nikitin also used his trip to build contacts in the UK. He spoke at a meeting of Iona and linked up with Arkadiusz Rzepinski, the UK leader of a far-right Polish group, the NOP [National Rebirth of Poland]. Nikitin's activities in Europe led, in 2019, to a 10-year ban on him entering to the Schengen zone of the European Union.