By Daniel Sonabend, historian of the 43 group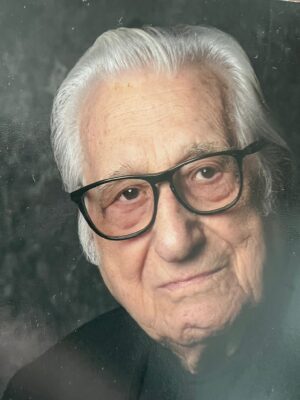 Jules Konopinski – veteran anti-fascist 
On the 11 September 1949, the militant anti-fascist 43 Group, alongside communist allies, held a meeting outside Hackney Town Hall, preventing a march of Oswald Mosley's Union Movement from commencing there. However, Geoffrey Bernerd, the 43 Group's co-chairman, found himself confronted by an opponent more intimidating than any fascist – the mother of Group member "Mad" Jules Konopinski.
Jules, who has passed away at the age of 93, watched in horror as his mother berated Bernerd in her thick central European accent, holding his influence responsible for her son's activities over the past three years. Jules had joined the 43 Group when he was just 16, had left to fight in Israel's War of Independence when he was 18 and, returning to Britain a year later, had immediately resumed fighting fascism. But, as Bernerd tried to protest, he had just as little influence over Jules's decisions as Jules's mother.
Born in Breslau, Germany in 1930, Julius Hillel Konopinski, was the only son of Tauba and Isaac (their second son Leonard was born sixteen years later). Breslau was a hotbed of Nazi activity; Jules had early memories of witnessing anti-Semitic incidents, and his parents were desperate to flee. Whilst returning from collecting visas from the US embassy on the eve of Yom Kippur in 1938, Isaac was arrested by the Gestapo. Somehow, he managed to escape their custody and fled to London on a one-week visa.
A cousin in Forest Hill hid him in his London flat and helped get word to Tauba who assumed her husband dead. She began liquidating the family's assets; they had a very successful hat-making business and, less the heavy Jew-Tax the Nazis demanded, they escaped to Poland with her remaining money hidden in Jules's clothes. It took almost a year for them to receive the necessary permits for travelling to Britain, finally arriving in September 1939 on one of the last ships carrying refugees from the continent.
Nine-year old Jules spoke no English, something his parents were desperate to correct. The evacuation meant most schools were closed, but an east London convent was providing lessons to some poor Jewish girls, and the nuns agreed to teach Jules on the condition that he also learn the catechism and say Catholic prayers. Within a year, Jules had enough English to earn a scholarship to Parmiter's School.
Located in Bethnal Green, the pre-war stomping of the deeply antisemitic Imperial Fascist League, Jules found himself the target of playground abuse. Confronting this head on, Jules took to standing in a crater in Victoria Park near his school every morning, challenging anyone who dared insult him to a fight. When his family moved to Clapton, Jules moved to the Hackney Downs School, which had a large Jewish attendance, including a young Harold Pinter who Jules helped study for his English matriculation exams.
When the war ended and returning ex-servicemen were prioritised for university places, Jules decided to leave school and begin an apprenticeship as a leather worker, whilst membership of the Hackney Boys Club provided him with a thriving social life.
In 1946, east London Jews were very aware of the attempt by British fascists to resurrect their movement, through engaging in street politics and targeting the Jewish community once again, and there was deep frustration that the authorities were not intervening. Jules, who had witnessed first-hand as a child what happens when fascists are not dealt with, thought this was an outrage. Thus, when news percolated through to him via the Boys Club that a Jewish anti-fascist organisation had been established to tackle the fascists directly, he was keen to join.
Founded as the 43 Group of Jewish Ex-Servicemen, membership was never limited to those who had served in the war, and Jules was amongst a small group of tough Jewish lads who had been too young to serve in the forces and felt like they had missed out on fighting fascism. Many of these lads were members of the Group's East End section, which was itself broken up into smaller cells based upon location. Jules lived in Clapton, but he became a key member of the Whitechapel cell which was notorious in the Group for having some of its most vicious members.
Jules was a seven-day a week man, working at his apprenticeship during the day and giving his evenings and weekends to the 43 Group. Jobs ranged from tailing fascists and selling the Group's newspaper to more direct action including targeting fascist newspaper sellers and dissuading potential fascist supporters from attending their events.
By far the most common task was attending fascist street meetings, sometimes to observe, sometimes to heckle and sometimes to go on the attack. Jules was proud of his role as a foot-soldier boasting "I was always there, always reliable and always did what I was told…I was game, I was fearless." He was arrested on several occasions and ended up in court at least twice. He beat one possessing offensive weapons charge by successfully claiming that the knife he had in his possession was for leather working. On another occasion, as a notoriously antisemitic police inspector came to give evidence against 43 Group members at Bow Street Magistrates Court, Jules threw himself to the ground as the Inspector walked past, leading to the judge reprimanding the policeman.
In 1948, Jules attended recruitment meetings facilitated by the 43 Group for the newly forming Israeli army. Along with several others who had been too young to fight in the World War, Jules volunteered. He slipped out of the country in the summer of 1948 and made his way to Marseille, from where he flew out to Haifa in the same transport as his good friend and fellow 43 Group member Vidal Sassoon. Jules served in Palmach for a year before returning to Britain.
By 1950 the post-war fascist movement had petered out, with Mosley leaving the country. The Group's leadership felt it was time to bring the organisation to an end. Jules was so vociferously opposed to this that at the final meeting he had to be thrown out of the hall. Jules always felt that the Group's biggest mistake was closing down, and he believed that the far right would have had a far trickier time coming back in the 1960s if the Group had continued and maintained its vigilance.
Jules remained close with a network of Group veterans who shared his concerns, and when in the summer of 1962 he was driving past Trafalgar Square and saw a large banner that read "Free Britain from Jewish Control", heralding the arrival of Colin Jordan's National Socialist Movement, Jules made some calls and the network sprung into action. Jules was not at the meeting where the 62 Committee, the 43 Group's successor organization, was founded, but he was a committed member from its founding until its closure in 1975.
Even though Jules now had a growing handbag business, a wife, and two young daughters he was just as committed to the 62 as he had been to the 43. Mosley was also active in the sixties, and at a Union Movement rally, Jules was part of a small group of 62 members who managed to get close enough to him to start kicking Mosley, knowing full well that the phlebitis he suffered from inflamed his knees, and a few well aimed kicks would send him crumpling to the ground.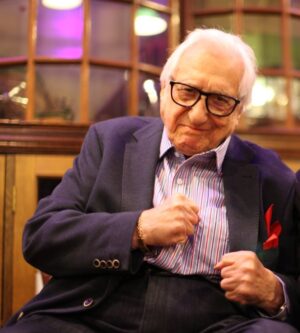 In recent years, with the passing of the older members of the 43 Group, Jules took up the baton of keeping the Group's memory alive, telling its story to journalists and filmmakers, researchers, and at schools and public events. For Jules the lesson of his life in anti-fascism was clear: the authorities could never be trusted to do the right thing, and if you wanted to guarantee the protection of yourself and your community you had to stand up and fight for yourself.
Outside of his anti-fascist work Jules ran a successful leather goods business for many years, alongside his wife Eleanor – who sadly passed away in 1993. Jules was also a member of several masonic lodges and was highly respected within the freemasonry movement. He is survived by his partner Valerie, his daughters Michele and Carolyne, his brother Lennard, grandchildren, and great grandchildren.
Daniel Sonabend is the author of "We Fight Fascists: The 43 Group and their Forgotten Battle for Post-War Britain"