Searchlight's revelation last weekend that UKIP has ditched a ban on fascists and neo-Nazis becoming members, seems to have sparked a bit of a crisis in the party leadership.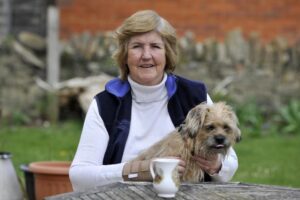 Image: Patricia Bryant resigned from UKIP on Friday
Patricia Bryant, a member of the National Executive Committee, the party's Agriculture Spokesperson, and lynchpin of UKIP in the south-west, resigned on Friday as a Director of the company which controls UKIP and was automatically removed as a member of the NEC.
Rumours are now flying around that our article prompted her departure, though this has yet to be corroborated.
Image: UKIP Patrons Co-ordinator, Joanna Grzesiak
Bryant, close to Party leader Neil Hamilton and his wife Christine, already had the hump since being passed over for the position of Patrons Co-Ordinator in favour of Joanna Grzesiak, who is more than 40 years her junior. That decision was made by party chairman, Ben Walker, who appears to prefer surrounding himself with attractive young woman, regardless of experience.
Ms Grzesiak may now be pressed into service trying to track down Searchlight's moles (yes, there is more than one and they are so fed up they are plying us with information on a daily basis) as she is, she claims, a psychic medium. So that shouldn't take long then…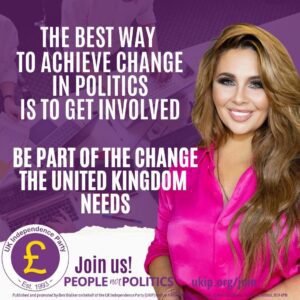 Image: Rebecca Jane, UKIP Deputy Leader and former Big Brother housemate
But if it doesn't work, she might seek assistance from UKIP Deputy Leader, Rebecca Jane, former Big Brother housemate and television "personality" who, back in 2009 set up the Lady Detective Agency, specialising in investigating "love-cheat husbands".
Image: Ben Walker, UKIP Chairman
Ben Walker is one person who will have no reservations about the new open door to nazis policy.  Announcing it to the members he wrote: "This move is a swing to now exclude the "Extreme Left" as opposed to like-minded, free-thinking people of the right…"
UKIP may be right wing, but there are probably more than a few members who will take exception to being lumped in with "like-minded" members of the BNP, EDL, NF or Britain First – openly fascist groups banned under the earlier policy which has now been abandoned.
With Bryant exiting stage left, it may only be a matter of time before some of her friends in South-West UKIP follow her, friends who are crucial to keeping going what is probably the only substantial regional organisation the party has left.
One West Country stalwart who may be torn, however, is Steve Unwin, the Party's Home Affairs spokesperson, who though close to Bryant seemed to warmly welcome the new membership policy; when he retweeted it he tagged in the very, very far right National Housing Party.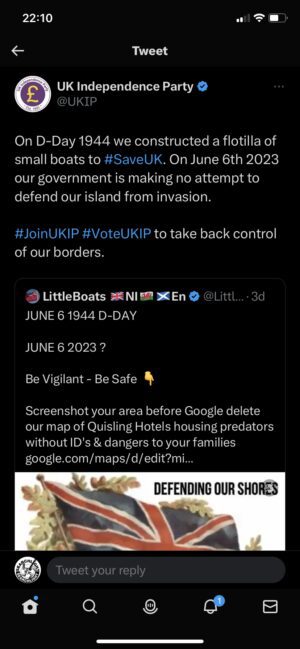 UKIP Tweet: The patriotic party that doesn't know the difference between Dunkirk and D-Day