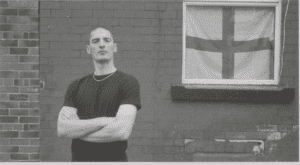 Beleagured PA leader Mark Collett
The Patriotic Alternative split, revealed by Searchlight on Thursday, has hardened within the last 48 hours.
Last weekend seven regional organisers wrote to PA's egotistical leader Mark Collett and his deputy Laura Tyrie (alias Laura Towler), supporting criticisms by their national admin officer Kenny Smith.
After failed attempts to mediate between the two factions with online conference calls on Monday and Tuesday, six of those seven have now resigned to join Smith in creating a new organisation, the Homeland Party. They aim to register with the Electoral Commission, something that Collett and Tyrie have persistently failed to achieve.
Smith claims the support of 32 PA officers (almost 60% of those who hold organising roles in the movement). He states that several regional PA bank accounts will be retained by the new Homeland Party rather than returned to PA, and that the same applies to a bank account which he ran for PA Services, as well as his own mail order business Claymore Books. Collett will remember that in 2008 his ex-leader Nick Griffin bankrupted himself in a failed legal action against Kenny Smith and others after a similar dispute over whether certain property belonged to the party or to Smith and his friends.
Collett's many enemies inside and outside PA are sharpening their knives. Even Nick Griffin is having a good laugh at his former protege's expense. Rival parties including the military-style National Support Detachment recently formed by Leeds PA rebel Alek Yerbury, and the British Democrats led by ex-BNP councillor James Lewthwaite, barrister Adrian Davies, and ex-MEP Andrew Brons, are hoping to pick up disillusioned PA members who reject both sides of the latest split.
The Homeland Party faction argue that the Collett-Tyrie leadership has not made sufficient progress towards turning PA into a serious political movement, rather than an online personality cult and business network, although Kenny Smith's own fiancée Claire Ellis herself runs one of the best promoted of PA-linked businesses, Clean and Pure Soap, from their home on the Isle of Skye.
At first Smith seemed to have the backing of Steve Blake, Eastern England regional organiser, but in an online broadcast on Thursday night Blake endorsed Collett.
Searchlight has heard from some within the British nazi network who suspect that Blake might secretly still sympathise with his old friend Smith. At the end of 2007 Blake and Smith were two of the leaders of a BNP faction that attacked Collett as part of their split from Nick Griffin's BNP. Some far-right veterans have not forgotten that this split led to leaking of the BNP membership list by one of Blake and Smith's faction, and they fear similar "dirty tricks".
Blake is one of the three directors of Patriotic Alternative Ltd, alongside Collett and Towler. One of the rebels' main criticisms of PA is that opaque links between this limited company and the broader organisation have led to the Electoral Commission blocking PA's registration as a party.
In the long tradition of nazi chicanery, these "comrades" don't trust each other either to control finances, have access to databases of members' addresses, or control appointments of branch and regional organisers.
The main rebels who have joined Smith and Ellis in forming the Homeland Party are:
Derbyshire-based Anthony Burrows, regarded as an expert on cybersecurity and Regional Organiser for East Midlands;
Connor Marlow, Regional Organiser for West Midlands;
Simon Crane, Regional Organiser for Scotland;
Jerome O'Reilly, a Cardiff-based graduate of Bath University and Regional Organiser for Wales;
Fraser Patterson, Regional Organiser for South West England;
Laurence Parsons, Regional Organiser for South East England.
So far, Collett seems to have kept the loyalty of his home region Yorkshire (where the RO is Tyrie's husband Sam Melia), North East England, and London. Regardless of his own questionable loyalties, a large part of Blake's Eastern England region supports the rebels, and North West England is also believed to be badly split.