Rick Sumner 1933 – 2021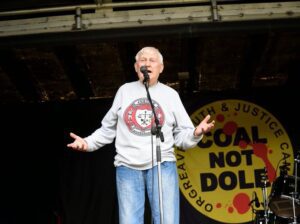 Rick Sumner passed away peacefully at home on Saturday while watching his beloved Manchester City contest the FA Cup semi-final.
Though a proud Lancastrian, Rick was for many years a miner at Shuttle Eye Colliery in West Yorkshire but also worked variously as a trawlerman fishing in the icy waters of the North Atlantic, as a scaffolder and steel erector on some of Manchester's biggest construction sites, being a key mover behind the Building Workers' Charter, and, later, as a community and grass roots advice worker in Manchester's Moss Side.
His life, throughout, was that of a principled working class militant,  an active trade unionist and dedicated fighter for socialism and workers' democracy. He did not disdain politics and, for a period, joined the International Socialists.
Immediately after the end of the Great Strike of 1984/85, he and his lifelong comrade and inseparable partner, Christine, saw the need to work energetically to support the more than a thousand striking miners victimised by the National Coal Board.
In doing so, they established the National Justice For Mineworkers' Campaign (NJMC) – with the support of the NUM – to sustain the sacked men and their families and to run a relentless campaign for their reinstatement and restoration of their pension and other rights. Parallel with this, they co-sponsored the annual, always well-attended, memorial meeting in Barnsley each March to commemorate David Jones and Joe Green, the two miners killed during the strike.
Rick and Chris – and volunteers from the ranks of the sacked miners like Ken Ambler and Keith "Froggy" Frogson who was murdered by a scab – were a firm feature of every labour movement and trade union gathering, with their mining memorabilia stall raising funds for families in truly desperate need.
From 1986 and until recently, they raised thousands and thousands of pounds for the great cause and earned the support, respect and admiration of the NUM and its activists across the British coalfields. Rick and Chris's commitment to the miners was absolute, it was unbreakable and it never wavered.
Rick had a peerless reputation in another arena of politics: the battle against racism, antisemitism and fascism. When he and Chris lived in Manchester's Moss Side, they started tenants' organisations and worked with the Campaign Against Racial Discrimination to oppose racist slum landlords.
Rick's personal courage, never flinching from direct physical confrontation with fascists, was a byword and inspiration to many young activists. He also played a key role in anti-fascist intelligence-gathering with the comrades who later launched Searchlight magazine.
Rick and Chris, before her death after a long battle against cancer, left the NJMC in good hands and retired to live by the sea on the Yorkshire coast, close to family members, but never lost contact with comrades and friends, always bidding them a warm welcome. In the circumstances of his retirement, he was able to devote more time to following Manchester City and to working hard to support the local lifeboat service.
He will be sorely missed by all who had the honour of knowing him. He is irreplaceable.
Deepest condolences to son Dan and daughter Suze.
By Graeme Atkinson