MARCH 20, 2021: UN ANTI RACISM DAY – NATIONAL DAY OF ACTION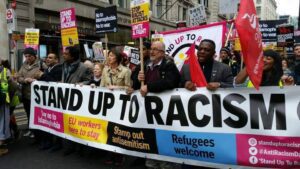 On March 20 2021 we will come together united against racism, Islamophobia, antisemitism and fascism. We'll stand in solidarity with refugees and migrants to send a powerful message to those in power that racism will be defeated.
On March 20, 2021, UN Anti-Racism Day, events will take place in cities, communities and online events around the world. In Britain, socially distanced protests will take place across the country, including Central London, and a national online rally will take place with speakers representing the broad alliance of communities and organisations that make up the anti-racist movement.
Join the Facebook Event here  UN Anti Racism Day – National Day of Action (facebook.com)
More information will be found at Stand up to Racism website March 20, 2021: UN Anti Racism Day – National Day of Action | Stand Up To Racism