Rogue's gallery, left to right: David Clews, Laura Towler, Joel Davis,  Mark Collett, Tony Hovater, Warren Balogh
Fearful of internal splits and anti-fascist infiltration, Patriotic Alternative abandoned plans to stage their conference in an expensive hotel (as they have done at least once a year since the group was founded). Instead, they gathered in the humbler surroundings of a village hall in Waltham on the Wolds, Leicestershire.
Organisation on the ground was handled by PA activist Adam Lambert, who has stayed loyal to Mark Collett's faction despite many of his fellow Midlands activists quitting to join the rival Homeland Party.
Lambert is based just the other side of the county border, in the Nottinghamshire village of Cropwell Bishop, where he is a director of the family business, Lambert Kitchens & Joinery.
Those forking out £75 for a day ticket including evening meal might have picked up an early clue that this year would be more downmarket. Last year's event in the Lake District cost £95.
Another clue to PA's internal problems is that three of the speakers came from overseas – and all of them were from the furthest fringes of the neo-nazi scene.
Two of them were from a tiny and openly nazi American grouplet called the National Justice Party. Warren Balogh and Tony Hovater were co-founders (or "co-chairmen") of the NJP when it was created three years ago by the podcaster Mike Peinovich (known until 2017 by the pseudonym Mike Enoch).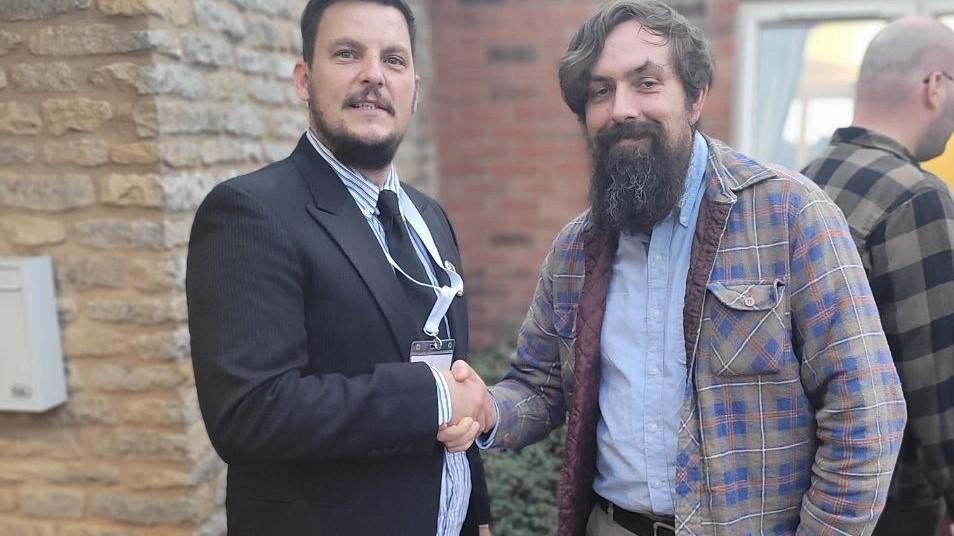 US Nazi Tony Hovater (right) with so-called 'Pembrokeshire Patriot', Darren Edmundson
Although he is blatantly antisemitic and mocks the Holocaust through the title of his main podcast The Daily Shoah, Peinovich is distrusted by many other nazi factions because his former wife is Jewish.
Both his fellow PA speaker Hovater (who is from Ohio) and another of the NJP's founding co-chairmen, Joseph Jordan, were previously active in a Strasserite nazi group called the Traditionalist Workers Party.
Warren Balogh's father Alan (yet another NJP co-chairman) spent years as the Philadelphia organiser for Dr William Pierce's terroristic National Alliance before moving to the NA compound in Hillsboro, West Virginia.
As a student in the 2000s, Warren Balogh seems to have infiltrated the West Virginia Democratic Party, where he took part in protests against President George W. Bush and the Iraq war.
More recently he and other NJP co-founders attended the notorious racist rally at Charlottesville, advertised as 'Unite the Right', which collapsed into violence leading to many criminal charges.
For the last few years, Balogh and his wife Emily Youcis have produced Hitler-worshipping podcasts and video streams.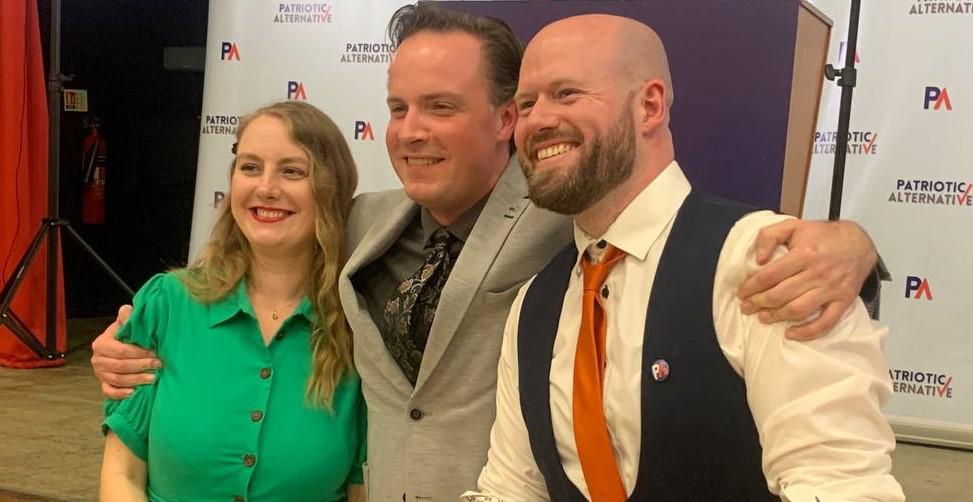 Warren Balogh with Laura Towler and Sam Melia
Part of the connection between PA and these two NJP leaders is through the Nordic Resistance Movement, whose podcast Nordic Frontier has featured the Baloghs (father and son), Hovater, and Collett. NRM is banned in Finland as a terrorist organisation, and is regarded by the authorities elsewhere in Scandinavia as dangerous and violent.
Yet it is distrusted by some other leading European nazis because of suspicious ties to the Russian intelligence services and mercenary groups fighting on the Russian side in Ukraine. This partly explains the strange absence of Heritage and Destiny and some of their pro-Ukrainian European friends from the PA event.
Occasional H&D contributor Michèle Renouf was however spotted at the Leicestershire conference. She is another British nazi who has appeared on Nordic Frontier.
The same ex-BNP camera team who regular film at PA events – including former Enfield BNP activist and GLA staff member Tony Avery – were also on duty with PA.
Together with the two Americans, Australian nazi YouTuber Joel Davis was another platform speaker at Collett's hatefest. He co-hosts the Joel & Blair Show with Blair Cottrell, chairman of the United Patriots Front, whose donors and Facebook contributors included the terrorist murderer Brenton Tarrant.
Australian nazi Joel Davis with PA fuhrer Mark Collett
Earlier this year, Davis and Cottrell used their show to celebrate Adolf Hitler's birthday. The following month their guest was fellow Australian Thomas Sewell, leader of the National Socialist Network, who has praised Tarrant and stated on Davis and Cottrell's show that Jews "are trying to genocide us".
It seems obvious that PA's response to internal divisions has been to come out as open nazis, with the implication that their rivals – Homeland and the National Support Detachment – are soft sell-outs by comparison.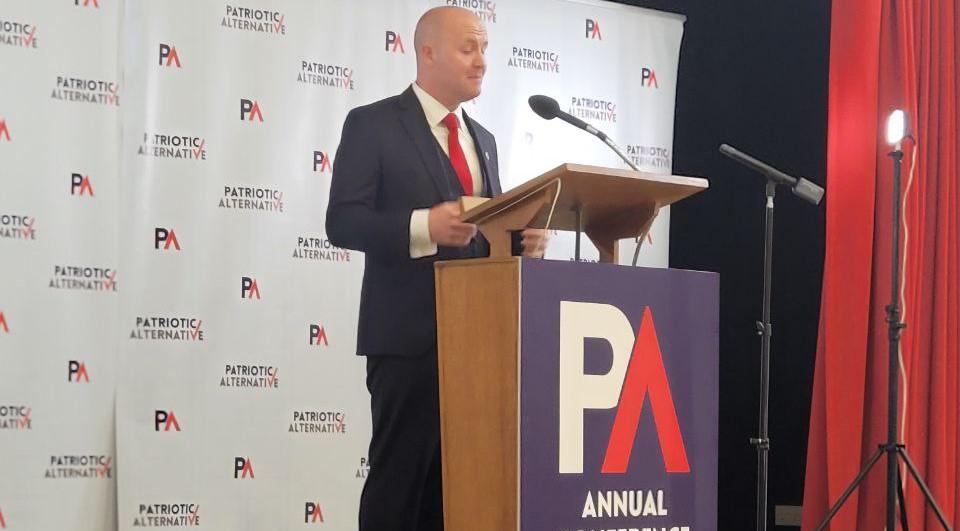 Conference 'Master of Ceremonies' the 'Reverend' James Costello – the 'reverend' comes from the white nationalist Church of Creativity which calls for race war.
In early responses to last weekend's Hamas invasion of Israel, the Collett faction has openly mocked Israelis and gloried in the slaughter of Jews, and some of their output must surely be examined closely by the authorities under the Terrorism Act and other legislation.
Another of the speakers at the PA conference has completed an eccentric political path from civic nationalism and Scottish unionism, through increasingly unhinged conspiracy theorising, and has now ended up in the company of open nazis.
This is David Clews, host of the Unity News Network. In 2011 Clews (who since 2007 had been an elected councillor in Renfrewshire, Scotland) defected from the Conservatives to Labour, allegedly because he opposed the Cameron coalition's austerity policies and cuts to local services.
A few years later Clews turned up in the official anti-independence campaign Scotland in Union, but quit to form a splinter group called UK Unity that promised to be more "aggressive" and "populist". Police Scotland raided his home in Renfrew in February 2018 investigating data protection offences involving leaks from within Scotland in Union.
No charges followed, but Clews record as a serial splitter and troublemaker continued when he took a leading role in anti-vaccination protests. Covid conspiracy theorising is probably what brought Clews into contact with PA and fellow extremists.
Ironically Collett's many enemies on the British far right are never slow to pick up on their own conspiracy theories. They are now pointing the finger at Clews and suggesting he might have a hidden agenda, highlighting his odd political record and what they claim to be his wife's job with a well-known firm of defence contractors.