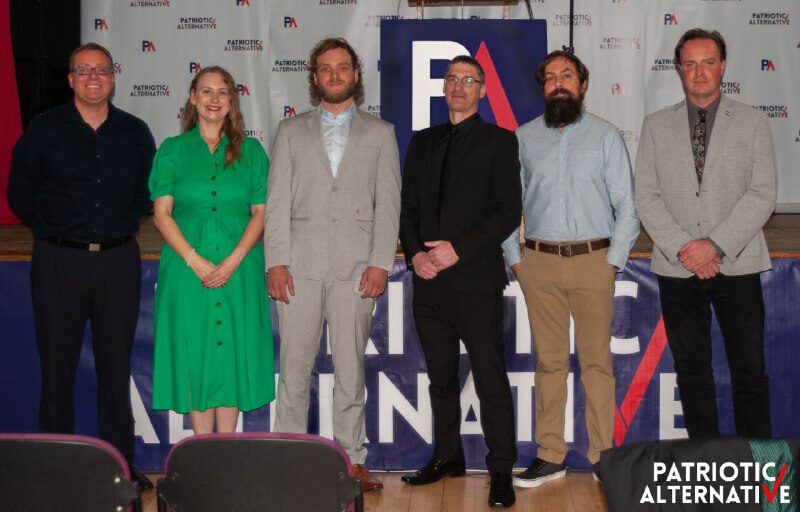 Left to right: David Clews, Laura Towler, Joel Davis, Mark Collett, Tony Hovater, Warren Balogh
Patriotic Alternative leaders lied to a charity to book a community hall for PA's annual conference.
The conference was held at Waltham on the Wolds Village Hall, near Melton Mowbury in Leicestershire, last Saturday. As well as PA leaders, speakers included American nazi Warren Balogh. Tony Hovater, like Balogh, a senior member of the National Justice Party and Australian neo-Nazi Joel Davis.
Also gracing the platform was David Clews of the UK conspiracy-peddling online TV channel, Unity News Network, whose contributors also include the deranged anti-vaxxer Kate Shemirani, best known for calling for the execution of NHS staff.
But to hire the hall, PA – presumably in the form of leader Mark Collett who was being congratulated on the PA Telegram channel for organising the event – lied to the charity which runs the hall about who was actually hiring it.
Alerted by Searchlight, the Hall Committee yesterday issued the following statement:
"It has been brought to our attention today that the group known as 'Patriotic Alternative' hired Waltham on the Wolds Village Hall on the 7.10.2023 to host a meeting. This booking was made under an alias that did not alert us to the nature or content of the event. 
"We do not support or affiliate with Patriotic Alternative or any other political group.  Waltham on the Wolds Village Hall is a volunteer run charity, and we welcome people from all communities and promote diversity and inclusivity". 
There had been some comment online that the venue might have been an adjacent scout venue, as PA posted photos taken outside the conference hall which showed the exterior of the scout hall. The scouting group also issued a statement:
"We were surprised to learn that Patriotic Alternative (PA) held a conference in a hall next to one of our Scout Facilities. The building in which PA met is not owned or operated by the Scout Movement but sits next to one of our existing meeting spaces. The PA event was held in the Wolds Village Hall and at no time during their conference did PA access our Scout meeting space. Scouting is a non-political, inclusive organisation that welcomes young people and adults from all faiths and communities across the UK.'