Topping the bill at this year's CPAC, Hungary's authoritarian leader Viktor Orbán advocated a far-right takeover of liberal democracies, by following his example.

Martin Smith

gains an insight into the developing links between global extremists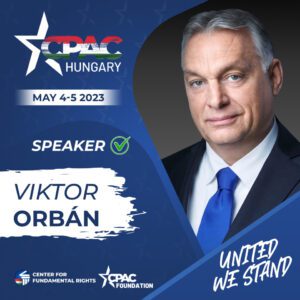 This year's European Conservative Political Action Conference (CPAC) was held on 4 and 5 May at the Bálna Centre in Budapest, Hungary. The entrance to the centre was emblazoned with a banner declaring 'No Woke Zone' (pictured below).
The entrance was as far as the liberal press was allowed to go, with many journalists who had previously been given credentials refused entry. Instead, they were issued with passwords that allowed them to watch online selected conference highlights, chosen by the press office of Hungary's Prime Minster Viktor Orbán.
Despite being able to watch only carefully selected 'high/low lights' of the CPAC conference, the journalists were able to provide a rare insight into the enmeshing of the various strands of the global far right. These show continued ideological cross-fertilisation and further evidence of the blossoming relationship between Hungary's authoritarian leader Orbán and ex-US President Donald Trump.
Over 1,500 delegates attended this second annual gathering of Europe's authoritarian far right and their US counterparts, the Trumpian Make America Great Again movement (MAGA). Outside of Hungary, the largest contingent came from the USA: it included Republican senators and members of Congress. Kari Lake, a serious contender for the Republican vice-presidential nomination, was present, as was US right-wing luminary Steve Bannon. Tucker Carlson, the celebrity right-wing extremist political commentator, sent a video message. Fox News had dismissed him without explanation just ten days before his appearance at CPAC.
The French far right also attended in large numbers. Marine Le Pen's National Rally (formally Front National) chairperson, Jordan Bardella, was a keynote speaker. For balance, members of Èric Zemmour's Reconquest also attended the conference – his key ally, Marion Maréchal, who is Le Pen's niece, was the main speaker at the CPAC gala.
More than 20 European MEPs were present, countless MPs, the Prime Minster of Georgia, the ex-President of the Czech Republic, as well as former Czech and Slovenian prime ministers. There were representatives from Israel and Brazil, the latter delegation headed by Eduardo Bolsonaro (son of Brazil's former far-right President Jair Bolsonaro).
Menace and bile
There were two keynote speeches at CPAC, the first given by Orbán. It was a declaration of support for Trump's 2024 Presidential election campaign and was full of menace and vitriolic bile.
Anti-Semitic tropes littered his speech. George Soros, the Jewish businessman and philanthropist, was the main target; however, the so-called global elites got several mentions too. This not-so coded anti-Semitic trope promotes the conspiracy theory that Jewish people control big business and have no allegiance to their country of origin.
There were three key elements to Orbán's speech: the first was the argument that his Fidesz government was at the heart of a growing global far-right resurgence. Orbán declared: 'There are two ways to occupy a city. This is something that was already known in ancient Rome. Either you take the city's walls, or you take the city's sanctuaries. I suggest we start with the sanctuaries, and then take the walls.
'In recent years, we have taken some great European sanctuaries: Budapest, Warsaw, Rome and Jerusalem – and the situation in Vienna is not hopeless either. But the truth is that the two main sanctuaries of modern democracy – Washington and Brussels – are still in the hands of the liberals. Let us make sure they do not stay that way!'
He went on to argue: 'Hungary is an incubator, where experiments are being conducted for the conservative politics of the future. Hungary is the place where we not only talked about defeating progressive liberals and turning in a conservative Christian political direction, but the place where we have actually done it.'
This is no idle boast. Since 2010, Orbán's authoritarian Fidesz government has created an 'illiberal state', which has undermined the judiciary, shut down oppositional media outlets and waged war on refugees, and Hungary's Roma and Jewish communities.
Orbán's second arrow was aimed at Western liberalism. In language reminiscent of the Nazis, he chillingly claimed: 'As the leader of an incubator programme, I am reporting to you that we are all under attack – in Europe, as well as in America. I must also report to you that the attack is not economic in nature: we are dealing with a biological weapon. A virus attack has been launched against us. The virus was developed in progressive liberal laboratories. This virus is attacking the most vulnerable point in the Western world: the nation. It is a nation-devouring virus that will atomise and pulverise our nations.'
Orbán believes the virus in question is 'wokeism' and 'gender ideology'. He claimed they 'are exactly what communism and Marxism used to be: they artificially divide the nation into minorities, in order to foment discord between groups. This is their power base'.
The third arrow was launched at migrants: it was a continuation of his support for the idea of 'the great replacement theory', which he outlined in his speech at the 2022 CPAC conference. To rapturous applause he declared: 'People without a homeland can never be free: they can only be wanderers, to be transplanted here or there, playthings of the global elite …
'The essence of illegal migration is the destruction of the national community. It is the dismantling of the cultural foundation necessary for the functioning of the nation state, and the creation in its place of marginalised, atomised, coexisting – but mutually hostile – groups who will never form a community, and who ultimately will never form a state.'
Fighting 'barbarians'
The second keynote speaker was Trump. He was not advertised to speak, but managed to find time between court appearances to send the conference a three-minute video message. He began by praising Orbán, then briefly outlined the battle he is conducting, even finding time to throw in an anti-Semitic trope.
To the enthralled crowd, Trump said: 'We believe that faith and family are the bedrock of a good and free society. We believe that a nation without borders is not a nation at all. We believe in tradition, the role [sic] of law, freedom of speech, and the God-given dignity of every human life.
'These are the ideas that bind together our movement, and these are the ideas that will save Western civilization. As you know, we are now engaged in a historic battle with the Marxist globalists and communists all over the world. We're fighting against barbarians who want to demolish our liberty and our traditions and everything we hold dear.'
Flagship
CPAC conferences are now held in the USA, Japan, Europe, Israel, Australia and Latin America. CPAC, Founded in 1974 by the American Conservative Union and the Young Americans for Freedom, is now a flagship for far-right and populist movements globally. It was originally a vehicle for the new right – Ronald Reagan was the first keynote speaker – however, since the emergence of Trump and the rise of far-right parties across the globe, the new right is being replaced by more extreme far-right authoritarian parties and movements.
There are issues the different groups clearly do not agree on. The two elephants in the room at the Hungarian CPAC were Covid-19 and the war in Ukraine. Major differences are deftly sidestepped. For example, it was noticeable how the Polish Law and Justice Party delegates skirted around the question of Ukraine. Likewise, although Orbán clearly supports Russia's President Vladimir Putin and sees the Ukraine conflict as a war against Western European elites, his only reference to this was to say that it would not have happened had Trump been President of the USA.