UKIP is shifting further to the right, reversing a ban on former members of nazi groups, to include more 'like minded people', but the party has been in crisis for some time. Tony Peters follows its decline
UKIP has moved significantly to the right in recent months with the lifting of a long-standing ban on former members of fascist and nazi groups joining the party. The move appears to have set off something of a crisis in the party, with several high-level resignations ensuing.
UKIP's rule book for many years contained a clause banning former members of certain proscribed parties or organisations from joining. These included Britain First, the British National Party, the English Defence League and the National Front. Former UKIP party leader Nigel Farage frequently cited this ban as evidence that UKIP was not an extremist party.
However, at a meeting of the UKIP national executive committee (NEC)on 15 April, this all changed. By a unanimous vote, the list of banned extreme right groups was removed completely and replaced with a list of proscribed left-wing groups, including Antifa, Hope Not Hate, Left Unity, Extinction Rebellion and Stop The Oil (sic). (Hope Not Hate was, in fact, already the subject of a ban voted through by the 2013 UKIP conference).
UKIP thus flung open its doors to fascists and neo-nazis, who are now free to join. Party leader Ben Walker described the decision as '… a swing to now exclude the 'Extreme Left' as opposed to like-minded, free-thinking people of the right…'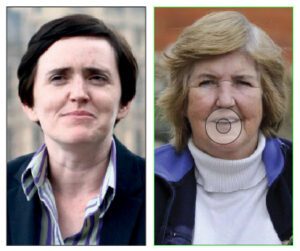 One in, one out The lift on the ban on extremists has seen Ann Marie Waters (left) back in the fold as justice spokesperson, while Patricia Bryant has been the first of many to part ways with UKIP
A few days later UKIP announced that former far-right For Britain leader Ann Marie Waters, was rejoining and would immediately be appointed its justice spokesperson.
The NEC decision was followed fairly quickly by the resignation of NEC member and agriculture spokesperson, Patricia Bryant. Talk within UKIP was that she had gone as a direct result of the ban being lifted, though she has denied this to Searchlight, insisting it was because she no longer wanted to 'traipse' up to London once a month for NEC meetings when she could be riding her horse. Bryant is known, also, to have questioned whether Waters rejoining 'is supposed to be good news?'
She was, however, followed by East and West Midlands organiser Ryan Fisher and East Midlands Chair John Laing. The post of West Midlands chair had been vacant for a while, so these departures left the entire Midlands organisation without any officers. Then, only a few days later, the entire list of regional officers was removed from the party website, suggesting that the number of vacancies had now become an embarrassment.
Unsavoury
Lifting the nazi ban is part of a long term rightward shift by the former anti-EU party which foundered after the Brexit referendum. It was damaged by the departure of Nigel Farage in 2018, and the subsequent launch of his Brexit Party, now called Reform UK and led by Richard Tice.
Farage left UKIP, he said, in protest at the appointment of Tommy Robinson as a UKIP adviser on 'rape gangs' by former UKIP leader Gerard Batten and support for the appointment from the UKIP NEC. Batten also allowed notorious conspiracy theorists to join up. In 2021, current UKIP leader Neil Hamilton and chairman Ben Walker attended the Alternative für Deutschland (AfD) conference on Family Policy in Dresden.
But the party is in crisis. Branches are moribund across the country, and it is being outflanked by Tice and Reform UK. UKIP desperately needs to find numbers somewhere: membership that only four years ago stood at around 30,000 has collapsed. Internal sources say that members are now counted in hundreds not thousands. In the recent local elections, the party lost all its remaining local council seats.
UKIP is desperate to arrest its decline and is touting around for similar thinking groups to link up with. Recently appointed deputy leader Rebecca Jane has been deputed to enter talks with these and other right-wing outfits, with a view to unification.
The prize would be Reform UK. Many UKIP activists loathe Tice, but would give anything to get into serious unity talks with him. All overtures so far have been rebuffed, and Jane's efforts are coming to little. Laurence Fox of Reclaim strung her along for a while, then blew any agreement out of the water by standing against her in Uxbridge. Reform UK and Reclaim have now agreed a non-aggression pact so they don't fight each other in by-elections, but UKIP has been excluded. There is now much moaning internally about Jane's fitness for the role. Her grasp of politics is slim, and she seems to believe that her 'personality' will woo over the likes of Tice and Fox. But they do not appear to be as easily impressed as the party chairman, whose idea it was to assign her to this task. Sacked Tory MP Andrew Bridgen's decision to join Reclaim was seen as a massive failure on her part.
Fox, of course, has ample funding from multimillionaire Jeremy Hosking so is not to be tempted, at this stage at least, even by the harvest of legacies that have been left to UKIP in the wills of elderly members and that they hope to reap. That may not be so straightforward as it seems, though. A recent court case featuring a bequest of around £180,000 to UKIP saw the deceased's family arguing that circumstances in relation to UKIP have changed so significantly since his death that the bequest was no longer appropriate. The judge agreed and UKIP left the court empty handed, except for a bill for costs. There was much subsequent recrimination at top level.
The recent by-elections have also drawn unwelcome attention to those who now control the party. Deputy leader Jane has a colourful past as founder of a 'Lady Detective Agency' that specialised in entrapping suspected wayward husbands. She also admitted to sending topless pictures of herself to ex-footballer Michael Owen (at his request) only a couple of years ago.
Then, a charity she has been running for the past 18 months came under scrutiny from the Charity Commission, although the commission decided to take no further action. Added to that, her party chairman Ben Walker was branded a 'rogue builder' after being convicted for a string of serious breaches of building regulations in 2019.
Her recently appointed election agent is Geoff Courtenay, who was thrown out of the Conservative Party for inappropriate Facebook posts. In 2014, he argued that using words like 'Paki' or 'Chinky' were 'no more than calling a Sandwich a "sarnie" '.
As for UKIP 'leader' Hamilton, where do we begin? There's so much to say and not enough space to say it. Perhaps new and curious readers should just begin here: