First published in the Spring 2023 issue of Searchlight magazine
Despite waning support, with many right wing groups now turning to white nationalists, Trump still leads the pack of Republican presidential wannabes. Leonard Zeskind weighs up his chances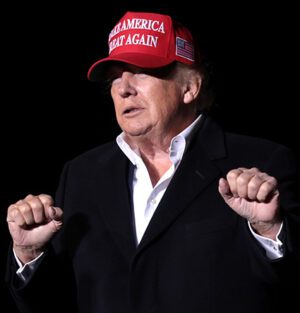 Trump  Photo: Gage Skidmore
https://www.flickr.com/photos/gageskidmore/51826153195/in/photostream
On 19 April 2023, as anti-racist demonstrators carried placards in North Kansas City, a young white man who was driving by yelled 'Trump 2024', in an apparent rebuke of the demonstrators and their anti-racist goal. That is what the name 'Trump' now means: a rebuke to democracy, equality and plain-old good sense.
A New York State Attorney General had convened a grand jury to gather the evidence, which indicted Donald Trump in early April on 34 counts of 'falsifying business records'. According to the Statement of Facts, before he was elected US President in 2016, Trump had had sex with a porn star while he was married, and through an elaborate scheme had paid the woman $130,000 to keep quiet. Apparently, he believed that a straightforward statement of facts would hurt him with voters.
Trump's base responded with solid support in the polls and a fundraising bump. He has announced his candidacy for the Republican Party nomination for president, and is outscoring any actual or presumed alternative Republican candidates at this early juncture.
The Republican Governor of Missouri and other politicians pinned the blame for Trump's indictment on George Soros, a liberal Jewish donor to education and democratic action. They did not blame Trump's 90-second sexual spree or his attempt to buy the woman off. Instead, they acted like it was 'blame the Jew' time on their calendar.
When the indictment was handed down, Trump called for protests in the streets. The New York Young Republican Club answered the call. They were outnumbered by anti-Trump protestors and the police used barricades to keep the camps apart. Apparently, fears of being arrested kept the number of Trump supporters down. The memory of 6 January 2021 in the Capitol is still too raw. Since then, over 1,000 people have been arrested for that event. And the seditious conspiracy trial of the Proud Boys has just resulted in guilty verdicts.
Ratings
Polling data by CNN and others indicates the size and nature of Trump's support. In January 2023, 32% of those polled had a favourable opinion of Trump, compared with 63% who had an unfavourable view. The poll showed that 40% disapproved of his indictment, with 60% approving. Among white people, 40% 'approved' of Trump, but 55% 'disapproved'; 63% of people of colour disapproved of him.
People in the 18-34-year age group approved of the indictment by the highest margin, while those aged over 45 years had the highest rate of disapproval. White people who did not go to college registered the highest level of opposition to the indictment. The poll also found that 31% thought the decision to indict Trump strengthens US democracy, with the same percentage stating the opposite view.
Trump has a strong hold over a minority of the population. This is not a traditional Republican Party base, but a new constellation that includes regular Republicans, plus MAGA (Make America Great Again) adherents. The MAGA people are nationalists, some of them white nationalists. They are newly made Republicans. The question is whether they will remain Republicans or spin-off into the militia and patriot worlds they came from.
During the presidential debates in 2016, Trump publicly told the Proud Boys to 'stand back and stand by'. The Proud Boys told the media that they were 'western chauvinists', a disingenuous way of saying they were old-fashioned white supremacists. They counted themselves as part of the Trump coalition and, when he called for that 6 January uprising, they attended in force.
Now, however, they stay at home nursing their wounds. Many have explicitly rejected Trump and have moved in an anti-Semitic white nationalist direction. One after another, white-ists are walking back from Trump. He may get them back in the end, but for now the MAGA base is split between Trumpers and anti-Trumpers.
Leonard Zeskind is the founder of the Institute for Research and Education of Human Rights