It's not easy for Mark Collett to eat even a few crumbs of humble pie. But after a disastrous split in his Patriotic Alternative group, reported last month by Searchlight, he has had to digest an entire plateful.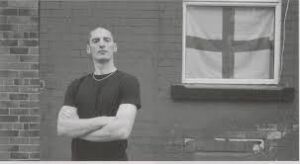 Image: Mark Collett
Desperate to reclaim some sort of credibility, Collett has taken part in "unity" discussions with four other groups, one of which has for several years operated as a registered political party.
One of the main issues causing the bitter split between Collett and a majority of his regional organisers, led by his old BNP rival Kenny Smith, was that the Smith faction (now called the Homeland Party) don't believe Collett is serious about registering with the Electoral Commission and fighting elections.
Homeland has already begun the process of registering as a party. If they succeed, Collett risks looking foolish or dishonest.
So, he picked up an offer that had been sitting on his table for the past year, to form an alliance with the British Democratic Party, led by ex-BNP councillor and fanatical Orangeman Jim Lewthwaite, former NF chairman and ex-MEP Andrew Brons, and England's most right-wing barrister, Adrian Davies.
The BDP's election results last month were pathetic even by today's far right standards. They lost their only borough councillor, veteran nazi Julian Leppert, but they do still have several parish councillors and consider themselves almost respectable. Unlike Collett's PA, you don't expect to see BDP members routinely turning up in court on terrorist charges, or being secretly filmed undergoing paramilitary training. BDP officials are more likely to turn up in court wearing a wig, rather than in the dock en route to a maximum security prison.
So Collett could see the advantage of a BDP alliance, especially if it allows some PA members to stand for election without his own cash cow having to be properly regulated. Privately he thinks Lewthwaite is a boor, Brons is past it, and Davies is ideologically weak and a semi-Tory. And he positively hates some other leading BDP officials.
A big practical obstacle is that while Lewthwaite might be desperate for friends, those like Davies and Brons who pull the strings in the BDP are not happy to work with Collett until they are sure that he has mended his ways since the Griffin days, when he was one of their worst enemies.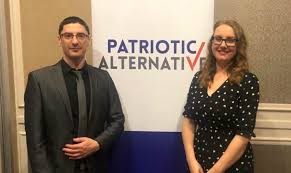 Image: Mark Collett and Laura Towler
For now, it's any port in a storm. Collett, his deputy Laura Towler, and her husband Sam Melia (PA's Yorkshire organiser and former activist in National Action, since been banned under the Terrorism Act) were happy to sit down with Lewthwaite at the "unity meeting" on May 28th. The gathering was hosted by some of Collett's former enemies in the Independent Nationalist Network (INN) and chaired by Joe Strutt, known online as "Anglo Joe".
Another INN leader at the meeting was Richard Lumby, former organiser of Wolverhampton BNP who was Griffin's number two in the West Midlands region during Collett's time as a paid BNP officer.
Strutt and Lumby led a small faction that split from PA two years ago. They were far more conspiracy minded than Collett, especially over the Covid pandemic and their paranoia led them to resent Kenny Smith's changes to party security. Smith insisted that PA members should be prepared to undergo identity checks, submitting addresses and other personal details, so as to weed out infiltrators from Searchlight, undercover TV crews, and state agents.
But for Strutt, Lumby and their friends this was evidence that Smith himself might be an infiltrator, or working for infiltrators, gathering intelligence on members.
So, they packed their armbands and their anti-vaccination leaflets, and left to form a new, small and imperfectly formed "network".
And now, thanks to their mutual antipathy towards Smith and his Homeland faction, these "Independents" are back with Collett, at least for as long as it takes to record a couple of podcasts.
Also sitting down for beer and sandwiches with PA, BDP and INN were leaders of an even weirder bunch, the Highland Division. No, not a military unit (except in their dreams) but another gang of conspiracy theorists who quit PA because they thought Collett was too soft.
Some of Highland Division's activists are keen on collecting weapons, though whether they are sharpening their knives for Jews, Muslims, or their fellow fascists isn't yet clear. Last month some of their leaders travelled to Derbyshire for a conference of the Mosley fetishist fan club New British Union, where speakers openly praised "lone wolf" terror tactics and recommended distribution of bomb making manuals.
At least one of Mark Collett's closest allies in PA will soon be tried at the Old Bailey for making similar recommendations, but for the past 18 months Highland Division has seen Collett as pursuing too moderate a tack.
The May 28th "unity meeting" suggests that Collett is dropping any pretence of "moderation". This is likely to confirm the views of those who defected from PA to the Homeland Party, but it looks as though Collett has given up on those fascists who favour constitutional politics and thrown in his lot with the online conspiracist fringe.
There might not be many votes on the fringe, but there are donors. Collett's problem is that one of his most active former PA officers is also trying to win over those donors and street activists, and it's not certain whether he wants any truck with "unity" on anything but his own terms.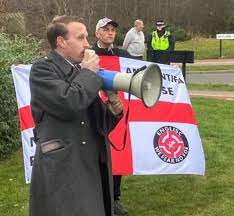 Image: Alex Yerbury
This is Alek Yerbury, an Australian-born former squaddie who quit PA a few weeks before the Homeland split to form his own "National Support Detachment". The NSD is run on military lines, with Yerbury styling himself "Commanding Officer" and until recently disparaging Collett for being too "intellectual". Although he hates Kenny Smith far more than he distrusts Collett, even Yerbury doesn't yet seem sure whether he is prepared to work with the new "unity" project.
For now he is too busy with fellow conspiracy theorist Katie Fanning (once of UKIP and founder of the grandly named but inactive White Indigenous Rights Alliance) organising street rallies (notably in Leeds on Saturday) and trying to link the anti-vaccination movement with what's left of Tommy Robinson's EDL. Searchlight will be monitoring these rallies during the next few weeks.
Perhaps by then we shall know what Andrew Brons makes of all these moves towards unity with people he has often derided as dangerous nutters. But is Brons as moderate as he seems? This is a question we will return to…