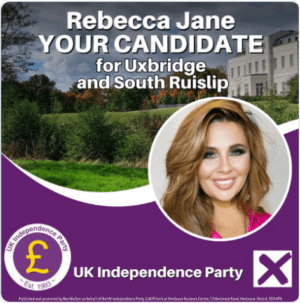 The Charity Commission is looking into a charity linked to UKIP's Uxbridge by election candidate, Rebecca Jane.
The organisation, called The Children's Charity, is linked to Rebecca Jane's private company RJ8 which provides counselling and mental health services. However, The Children's Charity is not registered with the Charity Commission. After enquiries from Searchlight, the Commission has said it is now assessing the case.
Rebecca Jane, real name Rebecca Jane Sutton, is UKIP's Deputy Chair, and the party's candidate in the by election in Boris Johnson's recently vacated parliamentary seat at Uxbridge and South Ruislip.
She is also a self-styled "Marilyn Monroe lookalike" and "television personality" with a rather colourful past.
She first sprang to public attention in 2009 when, suspecting her husband of infidelity, she set up the Ladies Detective Agency to help other woman investigate their husbands. She openly admitted that she used attractive women to "honeytrap" suspected wayward husbands. This was followed by an appearance on Dragon's Den in 2012 (no investment offers for a PR company) and on Big Brother in 2017 where she was booed as she was evicted from the Big Brother House.
Regular appearances on ITV's Good Morning Britain and This Morning followed in what The Sun called her "rise to minor telly fame".
But she is clearly not a complete airhead as she is sometimes portrayed – in 2019 she successfully completed a law degree. Now she runs RJ8, though she took time off last year to tell the tabloids how she had been sending topless pictures of herself to former Liverpool and England footballer, Michael Owen. At his request, we hasten to add.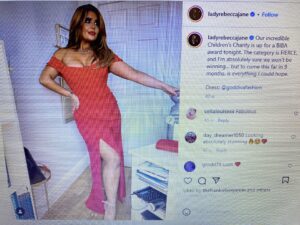 Image: Rebecca Jane's Instagram post re BIBA 2022 Awards
RJ8 had The Children's Charity, which seems to have been set up at the beginning of 2022. under its wing when the charity won an award at the North and West Lancashire Be Inspired In Business Awards last September. It shared an office address with RJ8, it was linked through the RJ8 website, and Rebecca Jane was listed as the charity's CEO.
When we asked Rebecca Jane about her connection with the Children's Charity last week, she told us that the charity project is no longer run under RJ8 and now belongs to a not-for-profit charitable entity. However, the Charity Commission has said it has no record of such an entity, which would have to be registered, and Rebecca Jane did not respond to follow up enquiries.
And at the time of writing, a week after Rebecca Jane told us there was no longer a connection between The Children's Charity and RJ8, there is still a link to the Children's Charity on the RJ8 website, and Rebecca Jane is still named as its CEO. The charity's published address is still the same as RJ8.
This, of course, does not mean that there is necessarily anything untoward going on and there is no suggestion of wrongdoing. A charity can operate without registration if its income is less than £5,000 a year. However, Rebecca Jane told Searchlight that "last year I did plough a £50,000 investment into funding the project on behalf of myself and RJ8".
UPDATE: The Commission tells us that it has now assessed the case and has told us that "Pre-registration advice and guidance has been issued to the organisation and…we do expect our advice and guidance to be followed".