Obituary by Andy Bell – originally published in Spring 2023 Issue of Searchlight magazine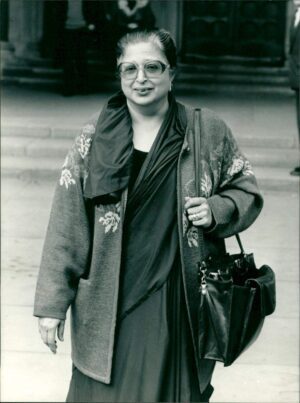 Searchlight was saddened to hear, just as our last issue went to press, of the death of Frene Ginwala, the veteran ANC activist and first Speaker in the post-apartheid South African parliament [National Assembly] who has died aged 90 years. Searchlight had worked closely with her in the late 1980s, when she was based in London.
Frene was of Indian South African descent and became involved with the ANC as a young woman organising underground escape routes for activists on the run. She had to leave South Africa in the late 1960s and, with Oliver Tambo and Yusuf Dadoo, set up ANC offices in exile in Tanganyika (now Tanzania). Later she moved to London, where she was head of research in Tambo's office and lived openly, and bravely, in Dulwich.
In 1987, three men, formerly connected with the South African or Rhodesian military, were arrested in London and charged with conspiring to kidnap leading members of the ANC based in the capital and transporting them to South Africa by boat.
The arrests were fortuitous: one of the men was seen by police acting suspiciously in a men's toilet in central London. He produced ID claiming to be a chief constable in the Ministry of Defence police, but officers realised it was a fake and raided his home. There, according to a Foreign Office report, they found 'an explosive device, a number of passports, invoices for arms purchases/uniforms including British police uniforms and military uniforms with UN badges'.
It was, according to prosecution lawyers, 'a well thought-out plot' to kidnap leading ANC members; police had recovered a hit list reported to include the names of Oliver Tambo, Solly Smith, PalIo Jordan, Brian Bunting, Ronnie Kasrils and future South African president Thabo Mbeki. Also on the list was Ginwala, who contacted Searchlight for help in obtaining information on the men arrested. Over the next few weeks, we worked with her investigating the individuals concerned and those behind the plot.
Then, out of the blue and without proper explanation, the prosecution dropped the charges. Attorney General Patrick Mayhew told the House of Commons that there was insufficient evidence to proceed. This, however, came after the men's defence lawyers had threatened to identify a government minister and senior intelligence figures whom they alleged were also involved in the plot. The suspicion was that rogue members of MI6 were implicated.
A senior South African intelligence officer, Johan Niemoller, operating in London, left the country hurriedly. Many years later he was revealed to be the European Head of Operations for South Africa's Civil Cooperation Bureau, which organised assassinations of anti-apartheid activists in the 1980s.
Frene returned to South Africa in 1991 and in 1994 was elected to the first post-apartheid South African Parliament and became its first Speaker, a position she held until 2004. She also played a leading role in writing the South African constitution.
Soon after her appointment as Speaker she was again in contact with Searchlight, for help investigating mercenary companies active in southern Africa. We are proud to have worked with her.