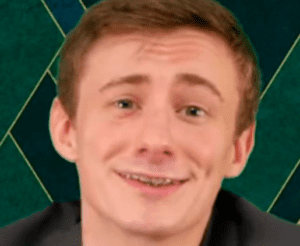 Photo: Alec Cave alias Wesley Russell
When Searchlight broke the news of a split in PA, some analysts saw it as "content creators" (staying with Collett and Towler) against "serious political activists" (defecting to Kenny Smith's new Homeland Party).
Smith himself contributed to this impression, criticising Collett's over-emphasis on the minor celebrities of online gaming and streaming.
Yet on April 29th one of PA's leading young stars, Alec Cave (usually known under the alias Wesley Russell) became the latest defector to Homeland. Russell had been heavily promoted by Collett since summer 2021 and gave his first public speech at that year's PA conference in the Lake District. Yet for some reason he has now lost faith with the leadership.
In his grandiose resignation statement, Russell wrote: "I am publicly announcing that I have stepped away and will no longer work with Patriotic Alternative.
"I no longer have faith that it is the vehicle to drive the serious change we need in this country to save our people.
"Frankly I am disgusted by the behaviour of the PA leadership over the past week. Specifically, but not limited to, in regard to the unrelenting untruths propagated by them to save the face of their now doomed organisation.
"The smearing of decent and hardworking people who I have known for years is unforgivable. The sheer amount of officers and dedicated activists, who were the backbone of the organisation, that have left PA cannot be understated.
"The damage which has happened within the organisation and the direction the leadership will take it means it simply cannot return to a healthy state with longevity; it is unsalvageable.
"I have no ill will to those who remain in PA but I encourage everyone not to stay oblivious as to what has happened. The PA leadership damage control and spin can only cover up the gaping holes for so long.
"I am not stepping away from Nationalism, far from it, and I will continue to play my part for years well into the future."
He added: "I am pleased to announce that I will be joining Homeland Party.
"Homeland will not be a brand for an internet safe space nor a glorified social club. It intends to be a serious political force which can mobilise communities and give our people their voice back in the political arena.
"Homeland already has dozens upon dozens of the country's most hard working activists onboard.
"If you want to be a part of a proactive movement which will bring about real change then join Homeland."
Some of the worst "smears" against Smith and Homeland have been issued by his old enemy Nick Griffin and spread around the darker corners of the internet by a faction that split from PA two years ago. This earlier gang of dissidents included those who objected on "moral" grounds to Collett's failure to act against self-styled alt-right intellectual Colin Robertson (alias Millennial Woes) following serious allegations of sexual harassment, some of which occurred at PA events.