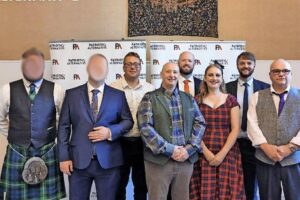 Photo: Kenny Smith with Scottish PA members
As nazis worldwide prepared for their annual celebration of Adolf Hitler's birthday, Searchlight is picking up reports of a bitter factional split in Britain's leading nazi group, Patriotic Alternative.
Searchlight has expected this split for months, between Mark Collett and his cult followers on one side, and former BNP officials led by Scotland PA's Kenny Smith on the other.
This is the second split within a month, after Hitler lookalike Alek Yerbury broke away to form a military style splinter group, the National Support Detachment.
Smith runs a PA-linked mail order business called Claymore Books. Together with PA's Scottish organiser Simon Crane (alias Si Borg) he leads a faction that hoped to turn the movement into a registered political party capable of contesting elections.
PA's very own führer Mark Collett (who first hit the headlines as star of a Channel 4 documentary Young Nazi and Proud and whose ex-girlfriend proudly displayed a swastika tattoo) is more interested in promoting pro-Russian conspiracy theories on podcasts and stirring up hatred among his young acolytes.
While at the opposite extreme from Kenny Smith, Alek Yerbury is attracting support from the most conspiracy-minded former PA members who see politics in apocalyptic terms. So, there is now a three-way split in what was once PA.
PA Scotland (allegedly backed by several English regional organisers) lost patience yesterday and will soon announce a breakaway movement. Though they do not (yet) accuse him of Griffin-style corruption, Smith and his allies believe that Collett is too focused on youth subcultures and business enterprises that are only semi-political.
Collett will be highly embarrassed if the Smith faction succeed quickly in registering with the Electoral Commission. Collett and his deputy Laura Tyrie (alias Laura Towler) have spent more than three years claiming that they were trying to register but being obstructed.
PA's Eastern region headed by Steve Blake is supposedly loyal to the leadership, even though Blake is an old ally of Smith in anti-Collett conspiracies and his long-term loyalties are doubted. The notoriously paranoid Collett is looking increasingly like his old leader Nick Griffin.
Alongside his core support in Scotland, Smith hopes to win support from a broader network of electorally-focused BNP veterans including several Midlands activists. Collett can (for the moment) command the loyalty of Tyrie and her ambitious husband Sam Melia.
But if the Melias change their mind, then the party will be well and truly over for Mark Collett.