Searchlight has learnt that a violent anti-Muslim gang, Death Before Dishonour, is operating in Britain's secure prisons, but its activities are not being taken seriously. Andy Bell and Cathy Pound report
The Ministry of Justice (MoJ) is in denial over the activities of a violent anti-Muslim gang operating in some of Britain's most secure prisons. Despite conceding a recent court case which established a litany of racist attacks by the gang, calling itself Death Before Dishonour, and collusion by some prison staff, the MoJ told Searchlight that it was 'not a live issue' and could offer no information about the gang's activities.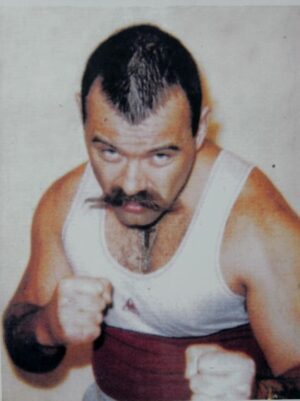 Image: Charles Bronson
Death Before Dishonour is concentrated in Close Supervision Centres (CSCs), which house prisoners viewed as highly dangerous, and boasts among its members Charles Bronson, one of the most notoriously violent inmates in the prison system.
The gang first came to public attention briefly in 2016, with media reports that a security briefing had been sent to prison governors warning them of the group's emergence and advising that it was recruiting particularly in the CSCs as an anti Muslim group in an environment where Muslim prisoners are disproportionately represented.

Image: Injuries sustained by Thakrar from prison officers at Frankland Prison
But the gang's activities are described in considerable detail in a recently concluded, but unpublished, legal action brought by Kevan Thakrar, a Muslim prisoner who has spent some 12 years in the CSC system and who won his case that he had been systematically threatened and attacked by members of Death Before Dishonour and that the MoJ had failed to protect him.
Thakrar is no angel. In 2007, he and his brother were jailed for three murders that were carried out in the course of a drugs transaction that went wrong. Although his brother actually did the shooting, Thakrar was convicted on the basis of joint enterprise, and received a life sentence with a minimum term of 35 years. Of mixed Scottish and Indian heritage, he became a practising Muslim after his imprisonment.
Thakrar earned the undying enmity of some with the prison service in 2011 when he faced trial in Newcastle for the attempted murder of three prison officers. He had lashed out at them with a broken bottle, injuring all three. One was said to have almost lost an arm.
Thakrar's defence was that after a long series of assaults by racist prison staff he was fearful for his own safety and lashed out in a pre-emptive attack. The jury, having heard lengthy evidence of his experiences in prison, accepted his defence and acquitted him of all charges. The verdict was publicly attacked by the governor of the prison at the time, and prison staff. After that, Thakrar was moved into the CSC system.
Threats
The Death Before Dishonour attacks started in 2015 when he was moved from Full Sutton prison to Wakefield. The Wakefield CSC already housed Charles Bronson and other Death Before Dishonour members. Bronson was well known for his antipathy to ethnic minority prisoners and especially Muslims.
What started as a campaign of threats and harassment progressed to assaults and attacks where liquids, including urine, were thrown at Thakrar. His lawyers wrote to the prison authorities but nothing was done and the harassment continued over many months.
In November 2016, Bronson threatened Thakrar that he was going to get him. The next day, when Thakrar was walking past the gym, Bronson emptied a bottle of faeces and urine over him. Prison officers had done nothing to stop Bronson taking the bottle to the gym.
Bronson revels in the reputation of being one of the most violent, dangerous prisoners in a British jail. His real name is Michael Peterson, which he changed to Bronson after the American film actor in 1987, when he was released from prison and was embarking on a career as a bare knuckle boxer.
His freedom was short – the following year he was jailed again, this time for armed robbery. More recently he changed name again, to Charles Salvador, as a 'tribute' to the artist Salvador Dali, as he tried to establish a reputation for himself as an artist. Bronson has spent many years in segregation and taken hostages in prisons on several occasions. His 'celebrity' resulted in a feature film about his life, with Tom Hardy in the starring role.
After the attack on Thakrar, Bronson was brought up on a charge before the prison governor, but the hearing was conducted without Thakrar present and Bronson was found not guilty. Only one month later another Death Before Dishonour member, Douglas Gary Vinter, said to have been one of the gang's founders, threatened Thakrar and spat on him in the presence of some 15 prison officers, yet still nothing was done.
A move to Woodhill prison CSC in 2017 did nothing to stop the threats and harassment, and Thakrar's solicitors were forced again to write to the prison authorities complaining about his treatment. This led, in August 2017, to an admission from the Ministry of Justice that he was indeed being racially harassed and to the conviction of another prisoner for abusing him.
After a couple more moves, Thakrar ended up in Long Lartin in early 2018. Vinter was also there and continued to threaten and abuse him, telling him that the gang would get him at the first opportunity. On one occasion, a Death Before Dishonour member was allowed to use a shower room next to the visitor area and shouted threats and abuse at members of Thakrar's family.
The attacks reached a climax in Full Sutton prison to which Thakrar was moved in September 2019. First, he was attacked by a prisoner linked to Death Before Dishonour, who assaulted him with a metal flask of hot water. Then, in December, he was stabbed three times by prisoner Kevin McCarthy who shouted 'Die, die, die', as he attacked him.
GBH
McCarthy's name had been included on a list of alleged gang members previously sent to the Full Sutton prison authorities by Thakrar's solicitors. McCarthy subsequently pleaded guilty to causing grievous bodily harm and was sentenced to a further two years' imprisonment.
Thakrar sued the MoJ and the case was concluded in November, with the MoJ offering no defence. The judge ruled that the ministry had 'failed to protect [Thakrar] from racist and religiously motivated abuse and assaults from other prisoners in the … Close Supervision Centre and segregation units including at HMP Woodhill, HMP Wakefield, HMP Whitemoor, HMP Full Sutton and HMP Belmarsh between March 2012 and December 2019 and failed to properly investigate the same'.
Yet, when Searchlight approached the MoJ for information about Death Before Dishonour in January, we were told that this was 'not currently a live issue' and that there was no further assistance they could offer us.
The Prison Officers' Association, some of whose members were accused of colluding with the gang in attacks on Thakrar, also pleaded ignorance. 'This is not something we are aware of,' it said, referring us back to the MoJ. It would appear that the activities of Death Before Dishonour are still not being investigated, or even taken seriously.
Bronson, one of Thakrar's main persecutors, is currently applying for parole, which will be considered at a public hearing in March. It will be interesting to see whether his campaign against Thakrar – and his involvement in Death Before Dishonour – will be considered a 'live issue' by the Parole Board.