Published in latest issue of Searchlight magazine: Winter 2023
As one of the killers implicated in the 1980 Bologna bombing prepares to appeal his sentence, Alfio Bernabei learns that, in an unprecedented move, the Home Office will not be making public a file linked to the Italian fugitives who fled to London
Lawyers acting for the families of the victims of the Bologna bombing of 2 August 1980 have learnt that a key document in the case held by the British Home Office is to remain closed to the public due to its sensitive nature. It is thought it contains information that could throw light on the movements of former Italian fascist terrorists who took refuge in London soon after the massacre. The bomb killed 85 people, including two Britons, and wounded 200.
The news comes as the much anticipated appeal of one of the fascists accused of the bombing is due to begin in Italy on 19 April. Lawyers acting on behalf of Gilberto Cavallini, 70, a fascist killer with nine life sentences, will seek to overturn the most recent verdict handed out to him by Judge Michele Leoni in January 2020 – another life sentence – for his involvement in the explosion at Bologna railway station.
In the 2,100 pages explaining the sentencing Cavallini stands accused of acting as an accomplice to Francesca Mambro, Valerio Fioravanti and Luigi Ciavardini (all three found guilty of the terrorist act and all sentenced to life imprisonment) by providing them with false papers and giving them hospitality on the eve of the massacre.
A fascist activist since his student days, Cavallini joined the Social Italian Movement (MSI) and proceeded to establish contacts with various nazi-fascist organisations active during the 'years of lead': Ordine Nuovo, Avanguardia Nazionale, Nuclei Armati Rivoluzionari (NAR) and Terza Posizione.
In sentencing him to life, Judge Leone made clear that he considered these organisations not distinct, divergent or separate from one another, but acting in continuity and co-ordination, 'united even in their contacts with the secret services' and state institutions, to the extent that the Bologna massacre was to be considered a state massacre (strage di stato).
When Cavallini was arrested in 1983, a diary was found in his possession with the telephone number 342111 marked 'confidential', leading investigators to a telephone exchange office in Milan with links to the Italian military secret service, raising suspicions about the existence of secret communications facilities at the disposal of terrorists.
Fifteen years later, further investigations led to a document from the same telephone company naming an employee, Luciana Piras, as attached to an office described as 'Nato, preordained to activities connected to the protection of State secrets'. Judge Leoni's sentencing also made references to huge sums of money Cavallini had access to in Switzerland where the notorious Licio Gelli, head of the Masonic Lodge P2, kept secret accounts.
Fiore link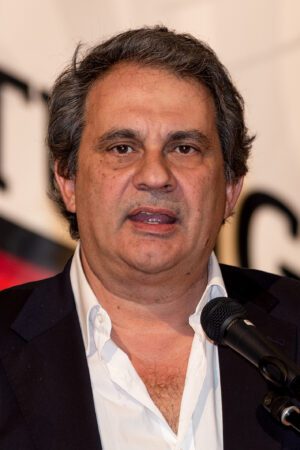 Roberto Fiore
Photo: Sven Teschke
Called to answer questions in May 2021 at the Court of Assizes in Bologna where Paolo Bellini, accused of taking part in the massacre at the station, was subsequently found guilty and given a life sentence, Cavallini opted to remain silent, determined to keep his secrets.
It was during the Bellini trial that a document was produced stating that Cavallini had been in London in April 1981, sharing a flat in Tabor Road with Roberto Fiore, currently the leader of the fascist organisation, Forza Nuova.
The document was described as a 'phonogram' sent by the London police branch of Interpol to their counterpart in Rome following investigations on Cavallini and Bellini in London. Dated 10 February 1984, it was referring to events of three years earlier. It did not mention Bellini, but stated that in April 1981 Cavallini and Fiore were sharing the flat in Tabor Road under the false names of Stefano Sorrentino (Fiore) and Stefano De Michelis (Cavallini). They were working as 'cleaners', Fiore at the Lansdale Club and Cavallini at the Royal Overseas League, a private club.
The text of the phonogram found its way into the hands of judicial authorities in Italy, but in truncated form. Two lines referring to Cavallini and Fiore's flat sharing were mysteriously omitted in the Italian translation. Only now has the full content become known after the original in English was tracked down.
Fiore, a leader of Terza Posizione, arrived in London in September 1980 soon after the Bologna bombing to escape from a wave of international arrest warrants. He was later tried in absentia in Italy and was acquitted of any involvement in the bombing, but received a five and a half year jail sentence for armed conspiracy and subversive association.
In 1997, together with another fugitive from justice, Massimo Morsello, member of the NAR, he co-founded the party Forza Nuova in London. Two years later he was able to return to Italy as a free man after his conviction became non-punishable on the statute of limitations.
Fiore has always denied having ever met Cavallini. But, given the existence of this Interpol phonogram stating the opposite and revealing a fake identity, it is likely he will be called to testify during the forthcoming Cavallini appeal.
In this instance, questions will also be raised about another document of potentially even greater significance and one that will produce a disturbing echo for years to come. It consists of a file whose existence has only come to light in the past few weeks thanks to two Italian investigative journalists, Sabrina Provenzani and Stefano Vergine, who published the results of their inquiries in the Italian daily Il Fatto Quotidiano.
The two journalists attempted to obtain from the Home Office a document marked HO 306/269, headed 'Extradition Case, Terza Posizione members Roberto Fiore, Marcello De Angelis, Stefano Tiraboschi, and Massimo Morsello'. Both Tiraboschi and De Angelis were among the Italians who arrived in London as fugitives from justice. In most cases, including Fiore's, the Italian authorities were quick to request extradition to Italy. For some, like , extradition was granted, but it was not for the quartet mentioned in the Home Office file.
This document is said to refer to events dated between 1981 and 1989, and should have been made accessible to the public under the 30-year secrecy rule. However, it remains 'exempt from disclosure'. The reason given to the journalists is that it would not be appropriate to release information that could compromise national security or reveal the involvement of security agencies.
MI6 approach
On his own admission made in 2018, Fiore was visited by Italian secret service agents while he was in jail in London in 1982. They suggested that if he agreed to collaborate a deal could be struck for his early release if extradited to Italy. 'I refused,' said Fiore, who let it be understood that this could not have taken place without the knowledge of the British secret service. Rumours have abounded over the years about Fiore's alleged recruitment by MI6 in efforts to gather intelligence about training camps in Lebanon for would-be terrorists. No evidence has ever been produced about Fiore visiting that country.
The reason why Fiore volunteered to reveal the attempts by the secret service to recruit him is not clear. It could be interpreted as a way to let it be known that, should any sensitive information about him be delivered to the Italian judiciary, he could divulge the identities and motives of those who tried to turn him informer. If true that he shared a flat with Cavallini who had contacts with the Italian secret service and access to large sums of money, then questions would arise of a potentially sensitive nature for both the British and Italian authorities over the handling of the case for his extradition that was never granted, suggesting that he was being protected.
Bearing in mind the mystery surrounding the business empire that Fiore and Morsello managed to set up in London in such a short time and, in spite of being humble 'cleaners', the two journalists looked into Fiore's apparent continuing ability to raise funds in the UK. They report that one organisation set up more than 20 years ago, the Catholic charity St George Education Trust, remains active and raises large sums of money through crowdfunding. The journalists write: 'The SGET Telegram channel is run by […] Michael Fishwick and was used to promote a crowdfunding campaign that amassed over £ 100,000 in opaque donations and raised money for Fiore after he was jailed in Italy.' (A nine-month sentence followed his arrest in Rome in 2021 for taking part in the attack on the offices of the CGIL trade union, thought to have been staged close to the anniversary of Mussolini's 1922 March on Rome to emulate fascist attacks against trade unions.)
The journalists' report states that Fiore's associations with SGET and Fishwick go back to the early 1990s, when both were members of the National Front and, later, the Third Position group. Their association is apparently as strong as ever. The report adds that SGET current accountant is Hugh Williams, a former national treasurer for UKIP. The charity is now under investigation by the Charity Commission over alleged links with 'extreme right-wing organisations'.
Three years ago, when Italian journalist Giorgio Mottola asked Fiore: 'How come that a fugitive from justice with an arrest warrant can become rich?', Fiore replied: 'There is only one explanation. Help from God.'
A more earthly opinion based on suspicions voiced by Mambro and Fioravanti was recently reiterated by Saverio Ferrari, secretary of the Osservatorio Democratico delle Nuove Destre. He reminded an audience in Milan of the long-standing speculation that some fugitives from justice arrived in London carrying loot accumulated by NAR terrorists. No evidence of this has ever been found.