Read article by Euan O'Byrne Mulligan on Newshopper website here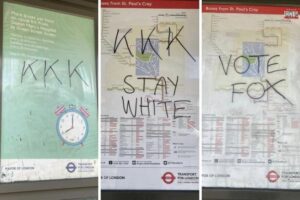 A life-long Orpington resident "felt sick" after discovering racist slogans graffitied on two bus stops in St Paul's Cray.
Paula Peters, 49, noticed 'KKK', 'STAY WHITE' 'NO KNEE' and 'VOTE FOX', an apparent reference to the mayoral candidate, written on Ravenscourt Road shelters as she travelled to a hospital appointment this morning.
A pair of elderly women who asked what Paula was doing as she photographed the messages allegedly said: "Bloody blacks taking bread out of white people's mouths".