This article first appeared on Kyle W Orton's Syrian Intifada blog.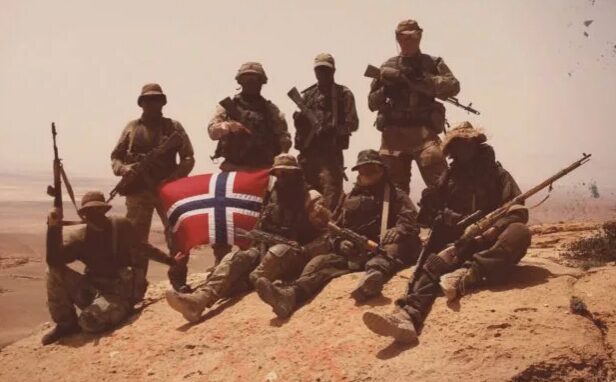 The Norwegian news portal AldriMer reported on 11 May about a group of far-Right Scandinavians who fought under Russian command for the pro-regime coalition in Syria.
AldriMer was relaying an interview published last month by Skandinavisk Frihet(Scandinavian Freedom), a website that describes itself as attached to the Skandinaviska Förbundet (Scandinavian League), a far-Right group based primarily in Sweden. The interview is with a member of Skandinaviska Förbundet who fought in Syria.
AldriMer describes Skandinaviska Förbundet as having been founded in February 2018, though clearly the networks were around long before that since the fighter interviewed discusses events in Syria between the start of 2017 and summer of that year, yet is still described as a member of Skandinaviska Förbundet.
According to AldriMer, Skandinaviska Förbundet has a youth wing, Nordisk Ungdom (Nordic Youth), which is a somewhat better-known neo-Nazi formation that has contributed foreign fighters to the radical battalions in eastern Ukraine that fight on the government's side against the Russian-directed separatist insurgency. (At home, Nordisk Ungdom has engaged in intimidation of migrants and has briefly gained some attention in Europe over the last few yeas when, in the summer of 2016, and then again in 2017 , it disrupted the homosexual pride march in Stockholm.)
The interview on Skandinavisk Frihet's website describes the Skandinaviska Förbundet fighter in glowing terms as a "brave warrior" who helped defeat the Islamic State (IS). He says he arrived as the Russians turned the tide in favour of Bashar al-Asad's regime, and claims to have fought directly against IS's troops in a detachment that was "temporarily incorporated with the Russian military forces".  "Russia broke the back of IS in Syria", the fighter says excitedly, "and we were there [with them], side-by-side".
This presentation of the Asad regime as having fought a terrorist insurrection is par for the course in pro-regime propaganda. After Russia's direct intervention in Syria in late September 2015 it continued the same themes, despite the flagrant untruth of it, which has been quantitatively demonstrated this week: just 14% of Russia's airstrikes have targeted IS.
The fighter tells Skandinavisk Frihet that "the unit, or more accurately the section I was part of, was named , 'Þorbrandr' (Thorbrand)". Thorbrand was an infantry unit in effect, he says, but it had access to heavy weapons, including tanks. Thorbrand was commanded by a Norwegian named "Norrmann"; there were other people from Norway, plus Sweden and Iceland, in the unit. The group was most active in the first three months he was there, using drones to scout the positions of the IS jihadists and then attacking, often at night. Asked about a memorable incident, the fighter recounts to Skandinavisk Frihet going behind enemy lines one night into an IS camp of about fifty jihadists, calling in Russian artillery fire, and then ensuring no IS members were able to leave. Activity slowed over the summer, he says, and Thorbrand engaged in things like laying mines to hinder IS's freedom of movement.
Asked about the Syrian population, the fighter is contemptuous. "Fortunately", Thorbrandr had minimal contact with "the so-called 'civilians'," he says toSkandinavisk Frihet: "These are people you never want to encounter. It is common for IS members to act as part of the civilian population and conduct terrorist acts or gather strategic information. In this war every single civilian is a potential enemy."
The fighter says that Thorbrand took strict precautions with its forces, so avoided having anyone killed. The cold nights of the Syrian winter were, apparently, unpleasant, and then in summer they faced temperatures like "hell" and sandstorms that "felt like standing under a jet turbine on an airplane". There were a lot of "uncomfortable guests" in camp, notably reptiles and toxic insects, and scorpions and worms infested "sleeping bags, shoes, and everywhere [else]".
"Thorbrand consists of warriors united in the blood and in faith", the fighter explains to Skandinavisk Frihet, when asked about his motivations. "We have decided to fight against the global threat aimed at Europe, not least the Nordic countries. It was clear to all of us that our authorities failed to protect our countries. They allow hordes of potential enemies to rape our fatherlands."
Skandinavisk Frihet has since published an English-language interview with their editor Björn Herstad that goes into greater detail about the organisation's beliefs. For example, Herstad rejects the label "Right-wing extremist" for Skandinaviska Förbundet itself as a meaningless term, and says that such a label can hardly be applied to "[a] person who is sensible enough to protect us all from the Islamic State". It should be noted that there are a number of religious and political extremist groups in Syria that present their highly exclusivist ideological projects under the anti-IS banner as a humanitarian mission for all mankind. On the thorny issue of antisemitism, Herstad says that this is an outrageous slander that can be traced to "Expo, a notorious left-wing organization in Sweden started by a Trotskyist and founded by Georges Soros."
Thanks to Adam Johansson for help with translation