This article by Tash Shifrin first appeared on Dream Deferred on 22 February 2018.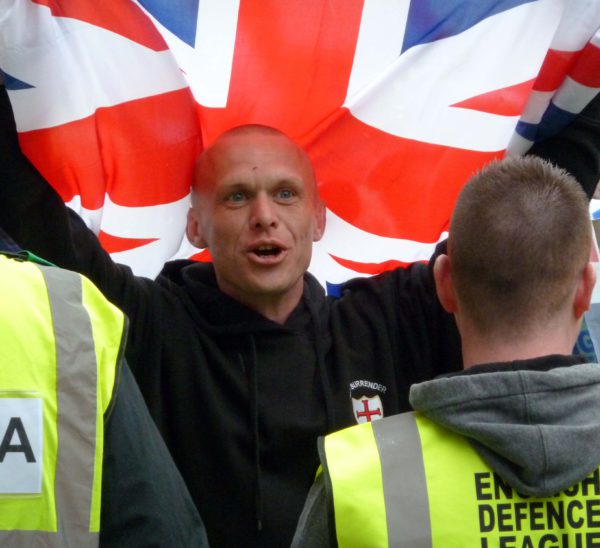 Figures from a range of fascist and far right groups in Britain have come together in a joint liaison group with the aim of coordinating their activities and seeking a "political direction". They include key personnel from the Football Lads Alliance, former EDL activists, hardcore nazis and a UKIP MEP.
UK Freedom Marches operates through a closed Facebook group and brings together activists and leading figures from organisations ranging from far right racist UKIP to hardcore nazis.
It includes former English Defence League leader "Tommy Robinson" (real name Stephen Yaxley-Lennon) as well as leading figures and supporters of the far right racist street movement, the Football Lads Alliance, including both sides of its current internal battle for control – see below.
The formation of the UKFM liaison group comes as the far right in Britain seeks to regroup and reorganise. The FLA has mobilised several thousand marchers on two sizeable demonstrations, as we reported at the time, and its rapid growth presents a pole of attraction for smaller far right groups – and for hardcore fascists who seek to gain influence inside it.
>> Our eyewitness report of the FLA's first demo
>> The FLA's second demo, plus six things you need to know
UKFM's facebook group appears to have been set up by former EDL activist Bill Weir, who is now active in Veterans Against Terrorism. VAT staged a demonstration of several hundred in Newcastle at the weekend. It also mobilised for the FLA's second demonstration in London in October last year.
The admins of the new UKFM group include Toni Bugle, the far right Islamophobic activist and would-be ideologue who spoke at the FLA's first demo in June and was dropped at the last minute for "PR reasons" from the platform for its second demo.
Other admins include FLA activists, such as "John Lee", as well as "Tommy English" who called the "UK Against Hate" demo in Manchester on 11 June that attracted thousands after Tommy Robinson threw his weight behind it.
Some marchers in Manchester sported nazi insignia, while others gave the nazi "sieg heil" salute and threw bottles at passers by. Mohammed Fyaz, a former speaker for Pegida UK and regular Robinson ally, also spoke in Manchester – and is also an admin for UKFM.
Another admin is Dean Matthews, who organised a small march in Aldgate, London, under the banner "No Surrender to Islamic Terror" in October. He pulled together Chelsea-supporting football hooligans, including members of the Headhunters hooligan firm with its liks to nazi organisation C18. Before the demo, several marchers attempted unsuccessfully to get to the nearby East London Mosque.
Members of the liaison group include Tommy Robinson (under the name Stephen Lennon), his right-hand man Kevin Carroll and other former key personnel from the early days of the EDL, including Davy Cooling, formerly the EDL group admin for its "hometown" of Luton. All three had previous links to the British National Party.
Other EDL activists who are now UKFM members include Guramit Singh, and former regional officer Antony Bamford. Dave Smeeton, organiser of March for England, is another experienced activist in the group.
FLA leader John Meighan is a member of the group, as is Jeff Marsh (aka Joe Marsh) of Casuals United / Pie and Mash Squad. Marsh was a key figure when the EDL was first set up – like the FLA as an alliance of football hooligan firms.
The Facebook group contains UKIP members, including high profile MEP Bill Etheridge. The MEP appeared at a rally in Dudley earlier this month wearing the T-shirt of the White Pendragons, the far right conspiracy theory-peddling group that recently invaded a meeting of the mainstream centre left Fabian Society in a bid to disrupt a speech by Mayor of London Sadiq Khan. Many other Pendragons supporters are members of UKFM too.
At the hardcore end of the spectrum, the UKFM group also includes lifelong nazi Eddie Stamton – who has joined twice, with two different facebook profiles – and convicted gun-runner and UDA loyalist Frank Portinari who has also been involved in the FLA.
Battle for control inside the FLA
Meanwhile, John Meighan faces a battle for control inside the FLA. Discontent has hardened among senior members of several hooligan firms involved in the FLA – over money, political direction, tactics and lack of accountability.
They have now set up their own "True FLA / Democratic FLA" group in a bid to seize the initiative, and have called a demonstration in Birmingham, on the same date, 24 March, as that already called by the FLA, but with a different assembly point.
It is clear that members of Spurs, West Ham, Arsenal and Millwall hooligan firms – who were at the core of the FLA when it started – are involved in the move against Meighan, along with elements from firms associated with clubs in the Midlands and the north of England.
Phillip Hickin, who played the role of Meighan's right-hand man at the FLA demos, is among those who now seem to be moving decisively against him.
The FLA, like similar groups before it is unstable – and is still in its early days. While infighting and can weaken the FLA, it can also result in a consolidation and hardening up of the organisation, as we saw several times with the EDL before it was eventually broken by a series of huge mobilisations of antifascists and local people on the streets.