Searchlight welcomes Unite Against Fascism's fast response to the news of the arrests of four serving soldiers under counter-terrorism legislation. Many of our readers who have followed closely our investigation of paramilitary training by the far right in the UK, with the assistance of Russian and Polish expert trainers, will be reminded by the UAF press release (below) of the work of the anti-fascist movement here and internationally in recent times to target the growth of groups promoting terrorism.
British soldiers are among four alleged members of the proscribed Nazi group, National Action, who have been arrested on suspicion of preparing acts of terrorism.
The arrested are from Birmingham, Powys, Ipswich and Northampton, they were taken into custody today. Three of the four are said to serve with the Royal Anglian Regiment.
The Ministry of Defence said that "a number of serving members of the Army have been arrested under the Terrorism Act".
A spokesman said they "have been arrested on suspicion of being concerned in the commission, preparation and instigation of acts of terrorism under Section 41 of the Terrorism Act 2000; namely on suspicion of being a member of a proscribed organisation (National Action) contrary to sec 11 of the Terrorism Act".
All four men are being held at a police station in the West Midlands.
An Army spokesman said: "We can confirm that a number of serving members of the Army have been arrested under the Terrorism Act for being associated with a proscribed far right group".
Who are National Action?
This pernicious Nazi sect were formed in part by ex British National Party young members such as Alex Davies. Never more than 100 or so strong, their fearsome image has often been revealed to be more spin than substance, eg in Liverpool, as pictured above, in August 2015, they were humiliated by thousands of anti fascists. They never recovered from their humbling, that day.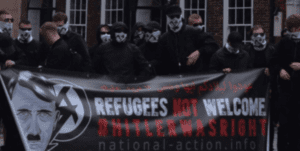 Recently, in Scotland, this year, anti fascists were curious about the fascists that they opposed, on a demonstration, in Alloa. Indeed, fascists from National Action (NA) were revealed to be on the hate assembly, under the name, 'Scottish Dawn', https://theferret.scot/revealed-neo-nazi-terrorists-are-behind-scotlands-newest-far-right-group/
The four arrests though, today,  show the path the group set out on, one which various fascists have undertaken, following the collapse of larger fascist formations. In the late 1970s, following the collapse of the National Front, at the hands of the Anti Nazi League and others, fascists belonging to the NF and the Nazi British Movement, attempted a similar, terrorist path.
Several such individuals from the British Movement were jailed  for possession of illegal weapons and attempted arson.
National Action have posted a series of graphic videos on You Tube, eg with sick images of members seig heiling at Buchenwald concentration camp. However, their acts only served to intensify anti fascists work against them. They looked to recruit on student campuses, albeit in a clandestine manner, especially in the North West. Success was extremely limited though.
Their short history is littered with anti Semitic abuse and attempts to intimidate many who oppose them. In 2014, after tweeting a series of anti Semitic messages at Luciana Berger MP, one NA member, Garron Helm, received a prison sentence. National Action members were also believed to be on the Nazi riot in Dover, in January, 2016.
Zack Davies, a NA supporter was jailed for life, after nearly killing an Asian dentist in a Welsh supermarket, in 2015. NA tried, unconvincingly, to distance themselves from Davies.
After the murder of Labour MP Jo Cox, by a fascist, in June 2016, National Action endorsed her killing. The group posted a message, which read: "Our thoughts go out to Thomas Mair #Britain-First #JoCoxMP'
In London and Wales, only this year, NA members were on militaristic, training camps, ran by ex BNP organiser, Larry Nunn, http://www.itv.com/news/2017-03-20/exclusive-former-members-of-banned-terror-group-meet-at-far-right-training-camp/
Nunn aka Max Musson is linked with fascists here and abroad, and is believed to be behind the funding of several fascist operations in recent years. He led open Nazis at the Greek Embassy, in support of the Greek Golden Dawn, Nazi organisation, in 2014.
NA linked up, on failed demonstrations, (again, in Liverpool, particularly) with hardened Polish Nazi from the NOP party (the National Rebith of Poland). In awe of the Polish fascists, NA members also co operated with them in Manchester, especially.
Last December, announcing the move to ban National Action, Home Secretary Amber Rudd described the group as a"racist, anti-Semitic and homophobic organisation". She said: "National Action is an organisation which stirs up hatred, glorifies violence and promotes a vile ideology". It was viewed as being 'concerned in terrorism'. 
NA members, operating under other names have been thought to be operating from a warehouse in Warrington, recently. Their vile politics mean they have not recruited beyond the fascist fringes and remain marginal. However, the arrests today show the kind of person attracted to such Nazism and the modus operandi of such as NA.
Sabby Dhalu, Joint Secretary of Unite Against Fascism said:
"These arrests are one more piece in an already huge stack of evidence that much greater prominence must be given to the fight against far-right terrorism.
There is a clear double standard in the way we treat terrorism in this country: Media headlines and government announcements focus almost exlusively on terrorist activity by those claiming to be Muslims, while around a third of all suspected terrorist activity is coming from the far right.
The murder of Jo Cox and the outrage in Finsbury Park show that this is far from being a minor threat. Rather than demonising Muslims and contributing to Islamophobia, we call on politicians and the media to take the growing threat of far-right violence and terrorism as seriously as it does ISIS-type terrorism"
Weyman Bennett, Joint Secretary of Unite Against Fascism said:
"After being defeated at the ballot box and on the street, the far-right is increasingly turning to violence and terrorism.
"Outrages such as the murder of Jo Cox, the murder of Mohammed Saleem and numerous attacks on mosques including Finsbury Park show that the threat is real and must be taken seriously.
"National Action are a despicable, pathetic group of Nazis who use Islamophobia, anti-Semitism, homophobia and threats of violence to intimidate all who oppose their sick ideology. They are only a tiny part of the growing threat of far-right terrorism which must be prioritised and defeated.