Richard Barnbrook has managed to get himself in the news again as the report below from the Bournemouth Echo reveals. The writer has overlooked some of Barnbrook's political activities. As well as being a BNP parliamentary candidate and leader of the BNP group on Barking and Dagenham council until the party lost all its seats in 2010, he was the BNP's only member of the London Assembly ever, after the BNP received over 5% in the London-wide election in 2008. After he was expelled from the BNP in 2010, he refused to resign his London Assembly seat and stayed as an independent, something he had every right to do. However he failed to make any impact.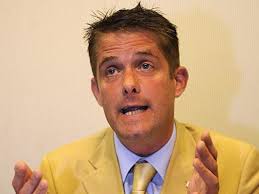 Barnbrook spoke at a meeting of the intellectual far-right group the London Forum last year where he was described as a successful art teacher. The London Forum brings together an assortment of Nazis, Jew-haters, Holocaust deniers, Islamophobes and conspiracy theorists alongside a few ultra-right Conservatives.
The Bournemouth Echo reports (1 June 2017):
A FORMER British National Party politician has taken Bournemouth and Poole College to a tribunal.
Richard Barnbrook has brought a claim of unfair dismissal and discrimination on the grounds of belief against the college after teaching for just three hours before being told he could no longer work there in October, according to the union Solidarity, which is representing him.
Last year, a student at the college contacted the Daily Echo after being taught graphics by Mr Barnbrook, who is an internationally-exhibited artist, claiming it was "very offensive".
The college told the Echo the former BNP parliamentary candidate and councillor had not been formally hired but was placed by a national teaching agency. A spokesman said he would not be working at the college again.
Patrick Harrington, general secretary of the Solidarity trade union, said he would be representing Mr Barnbrook in a tribunal hearing at West Hampshire Magistrates Court on Tuesday, June 6.
The union has been linked with the BNP as it has represented members in legal actions in the past, and Mr Harrington himself as a former leading member of the National Front.
Via email, he told the Echo: "Our union is opposed to all forms of discrimination and that includes discrimination based on political belief or affiliation.
"I believe that Mr Barnbrook has been discriminated against because of his nationalist political philosophy and past as a British National Party member and elected representative.
"This is unacceptable in a democratic country."
He said the college has "applied to have the case struck out on the grounds that it is scandalous or vexatious and that it has no reasonable prospect of success".
The college declined to comment on the hearing.
Back in October Mr Barnbrook had complained about his 'dismissal', saying: "Since when has it been a grounds for dismissal to hold a particular viewpoint, particularly when this opinion has not been expressed during the course of one's work?
"Sadly for our society, once so protective of individual freedom of expression, it would now seem that tolerance is now subject to the whims of political correctness."
He was the leader of the BNP group on Barking and Dagenham London Borough Council for two years and later stood as an independent after being expelled from the party in 2010.
He trained at the Royal Academy of Arts in the 1980s and works in a wide variety of media including paints, etchings, sculpture and film.
Earlier this year he served briefly on the committee for Boscombe Forum, and last year he unveiled a scheme for a large subterranean art gallery with 20-30 affordable community studio spaces under the former IMAX building.