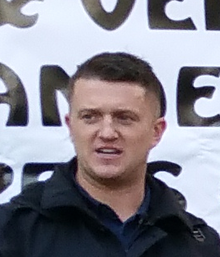 Oxford Unite Against Fascism reports that an invitation to the fascist activist Tommy Robinson, former leader of the English Defence League, to speak to Oxford Brookes students has been withdrawn following the launch of a UAF open letter and planned protest.
Oxford UAF writes further that students from a number of campuses, including Cambridge and Essex are reporting an upsurge in fascist activity with antisemitic stickers and leafets being posted along with Nazi symbols.
Racist attacks have risen since the EU referendum and have been further fuelled by Trump's election victory.  Nazi organisations across Europe are hopeful they can make a breakthrough, and violent attacks on refugees (including a school) have escalated.
In response anti-fascists will be joining anti-racist protests across Europe on Saturday 18 March. In the UK a mass march against racism will take place in London, supported by TUC, Unison, UNITE, NUT, CWU, UCU, ASLEF, PCS, BFAWU and MEND. Coaches will be organised to bring people from other regions.
Amid a vitriolic atmosphere of anti-migrant hysteria following the EU referendum, Prime Minister Theresa May has announced she will trigger article 50 by the end of March 2017 in order to "have the freedom to choose the way we control immigration".
In a situation where migrants, Muslim women and anyone considered to be 'foreign' are being attacked on a daily basis and refugees are being abandoned by Britain and Europe to destitution, drowning and exploitation, there has never been a more important time in recent history to stand up to racism.
On 18 March, let's make the Stand Up To Racism demonstration for UN Anti-Racism Day the biggest yet, to show that Theresa May does not speak for us when she blames migrants and refugees for the problems causes by austerity and the financial crisis, and that we are united against racism, Islamophobia and antisemitism
Over the past four years, Stand Up to Racism has organised protests in defence of migrants and refugees. At our recent conference, 1,500 participants – including Jeremy Corbyn, Diane Abbott, Lord Alf Dubs and others – launched a mass anti-racist movement. Join us in London in March 2017 to stand up to racism together.
Organised by Stand Up to Racism