An anti-Muslim extremist has been filmed joining a hate-filled group hunting down asylum seekers in Bulgaria, the Daily Mirror wrote on 24 October.
Far-right Jim Dowson donned camouflage gear to join the heavily-armed Shipka Bulgarian National Movement stalking migrants who cross the Turkish border.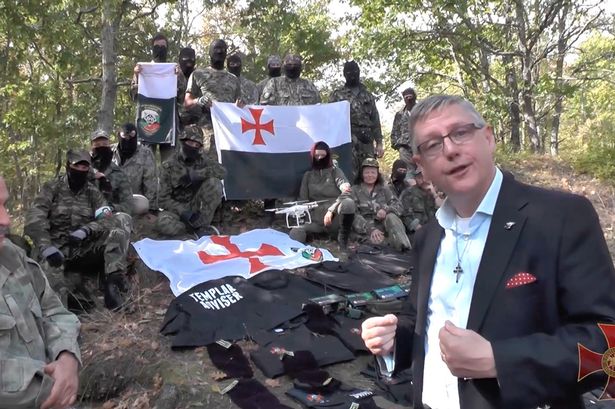 Dowson, founder of the Britain First group, has made a series of videos begging supporters to send donations to help arm the ragtag malitia.
The Scottish Daily Record reports Dowson claims the Turkey-Bulgaria border is the key strategic point to be defended from refugee "invaders" who he claims are seeking to take over the world.
He has also appeared on Russian TV, backing the sinister anti-Islam Knights Templar International group and whipping up support for far-right groups in Hungary and other eastern states.
Dowson, from Airdrie, boasts of donating bulletproof vests, night vision goggles, drones and other supplies to the thugs and asks US supporters to sign up or send money.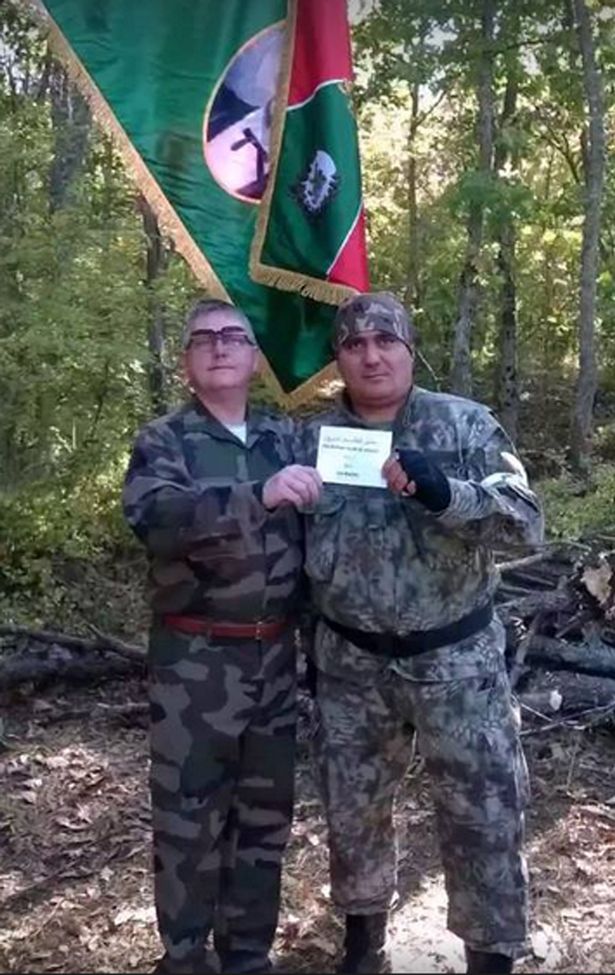 The Daily Record uncovered footage showing Dowson hunting down asylum seekers alongside masked and heavily armed Bulgarian skinheads.
In the sickening footage, Dowson whispers to the camera: "We are on the Bulgarian Turkish border on patrol and looking for illegals. The dedication these guys have got is very impressive.
"The borders of Europe are being protected more by these men than our governments.
"Today, the Knights Templar International brought along vests and ballistics and drones and night vision, stuff that these guys desperately need.
"A big thank you to supporters in America and the Philippines and other countries who have contributed to this.
"These are men and women, mainly ex-forces, doing it in their own free time, facing all sorts of risks and dangers.
"These are good people and they're very very deserving of your support."
On another video, Dowson tells the Bulgarian thugs: "When my grandfather was alive, this land was ruled by Ottomans, by the Muslims.
"Now they're coming back. Remember the forces of Islam once got as far as Vienna.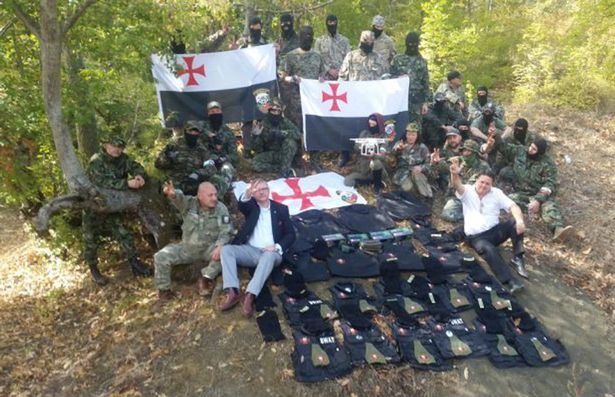 "Now they are as far as John O'Groats in Scotland and more and more are coming in.
"This is not political, this is a fight between good and evil, black and white, a fight of the cross, a fight of Christ.
"If you can, please come train with these people, help them. If you're too old or can't leave your job, send them some money.
"Get them organised, help them, supply them, meet their needs because they're guarding your border, my border, the whole of the free western world's border, even America's border. The fight is here."
Dowson formed racist political group Britain First and was closely associated with mosque invasions across the UK where thugs forced their way into the places of worship and confronted imams.
He has also been a key fundraiser for other groups like the BNP.
Earlier this year, Dowson and former BNP supremo Nick Griffin travelled to St Petersburg in Russia for a rally of far-right groups.
Dowson also appeared at the Knights Templar International Hungarian Border Mission as a delegate and staged meetings with banned Hungarian neo-Nazi group Magyar Önvédelmi Mozgalom.
A spokesman for anti-racist group Say No To Hate said: "Dowson and Griffin are clearly up to something.
"They are spending a lot of time in eastern Europe, presenting themselves as viable voices.
"They are simply churning out the same messages of intolerance that they did back in the UK.
"Dowson is appealing to Americans for donations to supply a militia group in Bulgaria, which seems quite alarming.
"They are running around the woods at the Turkish border with rifles, determined to round up refugees. It's a dreadful proposition. I would urge anyone in the UK or further afield to have nothing to do with them."
Dowson was recently named in a dossier leaked to the Record detailing the most dangerous extremists.
Dowson is active in Loyalist circles and helped launch the Protestant Coalition, who have links to Britain First. He is also an ex-Calvinist minister and anti-abortionist and set up a BNP call centre in Northern Ireland.
The Daily Record contacted Dowson to ask him about the videos and his support for the Shipka Bulgarian Movement.
He said: "The only time I have ever spoken to the Record you have done nothing but a hatchet job so you're going to write whatever you're going to write. You don't really need a comment from me."
When our reporter stressed that Dowson had been approached to give him an opportunity to comment, he replied: "Aye right. Okay. Nae bother. Listen, have a nice day my friend."
The Shipka Bulgarian National Movement claim to be "at war" with Muslim immigrants coming into the country from Turkey.