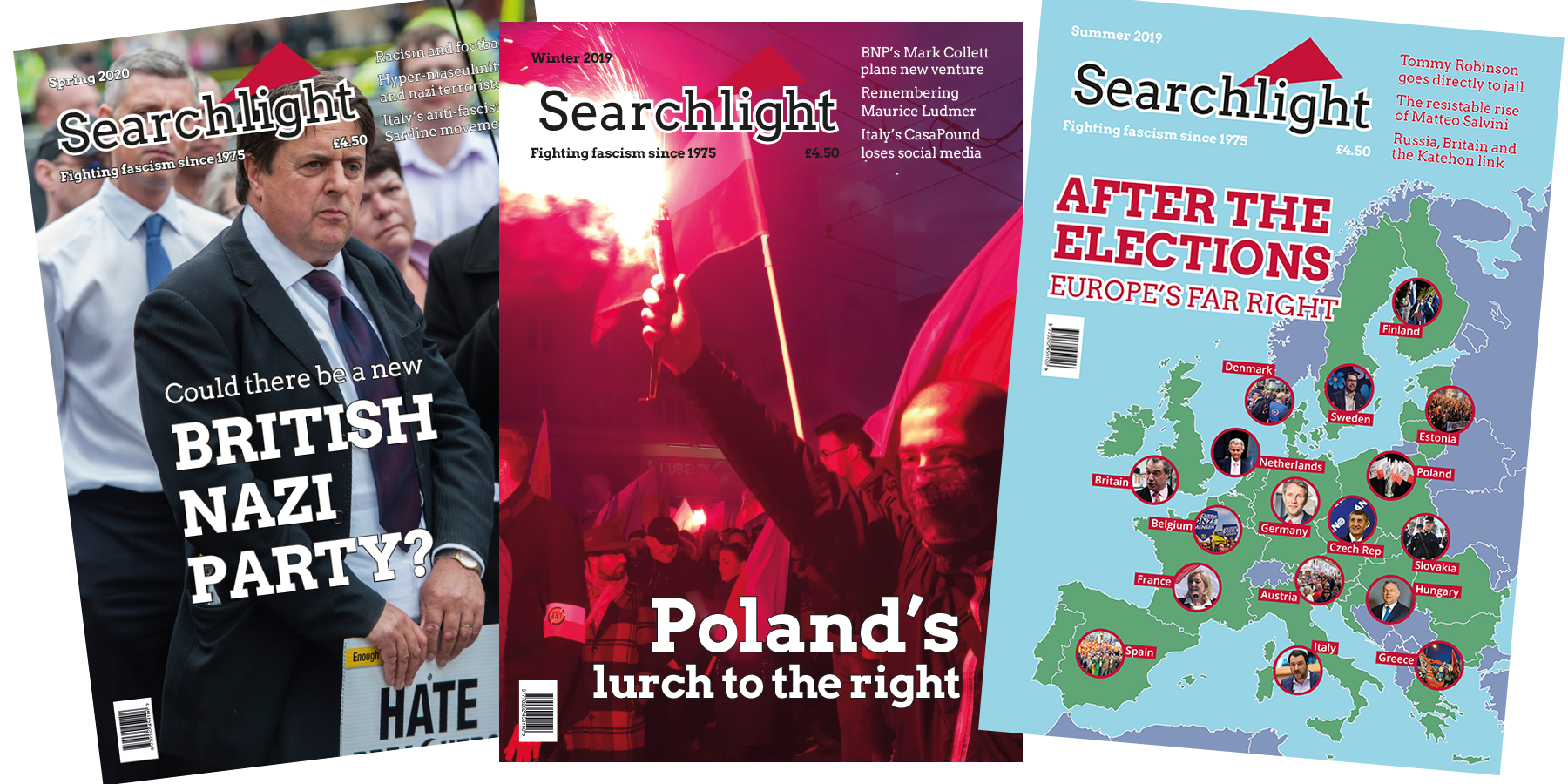 Help us keep up the fight against fascism and the far right threat.
In the 57 years of its existence Searchlight has monitored the activities of racists, fascists and neo-nazi groups in the UK and Europe. Now, with the rise of the far right in Britain and around the world, our work is as vital as ever. Our research has led to arrests and jailing of dangerous and violent far-right criminals, such as the leader of Combat 18. In the 1980s, our work helped the Midlands police uncover a large cache of weapons stockpiled by nazi gangs. We worked with the television programme World in Action to expose the activities of Column 88 and Combat 18 in the 1990s.
Research gained from undercover intelligence work such as that of Duncan Robertson, who died in 2013, provided an archive of publications and information about individuals with far-right links. Another anti-fascist activist, Ray Hill, working undercover in the British National Party, managed to prevent a fascist plot to bomb the Notting Hill Carnival in 1981.
Our journalists, photographers, researchers and analysts have shone a light to expose the activities of racists, fascists and the far right in Britain, across Europe and beyond since then. Now, 57 years on, we have an international reputation and an international network of colleagues. Swedish journalist and writer Stieg Larsson, of Millennium trilogy fame, contributed to Searchlight with his research on rightwing extremism in Sweden until his death in 2004.
In the past few years we have created the Searchlight Archive in collaboration with the University of Northampton with a unique amount of material relating to the enemies of democracy and those who oppose them.
But every year the cost of producing Searchlight magazine and continuing our research and documentation activities has grown. Now we are asking you to help us raise the £50,000 we need to keep up our work for the time ahead.
We welcome personal donations or collective donations through trade union, student, professional or community organisations. Please support the continuation of Searchlight's vital work. There are several ways to donate:
• Use the Donate button below to donate by credit card, debit card or with a PayPal account.
• Send a cheque, made payable to Searchlight, to Searchlight, PO Box 1576, Ilford IG5 0NG.
• Donate by bank transfer to Searchlight Magazine, sort code 40 17 45, account number 11110608.
Thank you for your support and solidarity!